For those looking to escape the hustle and bustle of city life, Amboró National Park is a jungle paradise, perfect for unwinding, relaxing and getting back in touch with nature.
Located only 40 kilometres west of Santa Cruz, in the Andean foothills of Bolivia, Amboró spans a whopping 4,425 square kilometres stretching all the way to the borders of Carrasco National Park in the department of Cochabamba. The unspoiled park is also part of the Vilcabamba – Amboró Corridor that begins at the Vilcabamba mountains in Peru and extends all the way to Bolivia.
Noted for its rugged and varied topography, Amboró National Park lies within three distinct ecosystems: the foothills of the Andes, the northern Chaco, and the Amazon Basin. Nowhere else in the world do three such diverse environments coincide, making Amboró a unique host to a wide range of flora and fauna.
In 1984, with the help of esteemed conservation biologist Noel Kempff, British zoologist Robin Clark, and other notable researchers, Amboró was legally given the status "National Park" in order to protect the ecological hotspot from human settlements, hunting, mining and deforestation. One of the most biodiverse parks in the world, the preservation of Amboró is of immense importance to the scientific community.
Featuring beautiful walks, cascading waterfalls, dense vegetation, spectacular landscapes, fascinating archaeology and a great diversity of flora and fauna, it is no wonder that Amboró National Park is one of Bolivia's greatest natural treasures.
Plants and Wildlife
Home to over 2,659 species of plants, 177 mammals, 135 reptiles, 173 amphibians, and 812 species of birds, Amboró is one of the most botanically rich and wildlife abundant national parks in the world.
A large range of beautiful yet elusive mammals including tapirs, armadillos, spider monkeys, jaguars, giant anteaters, pumas, ocelots and spectacled bears, exist among the jungle's dense vegetation, making it a prime location for wildlife watching.
Amboró is also a popular place in Bolivia to go birding. Featuring a staggering 830 species of bird (the highest of any park in the world), the pristine jungle contains 60% of the country's avian population, making it the perfect place to spot blue horned curassows, spectacled owls, white-bellied hummingbirds, cock of the rocks, military macaws, cuvier toucans, and much, much more.
Characterised by great floristic diversity as well as presenting a high level of endemism, the current number of documented plant species in Amboró totals around 3,000. The large quantity of plants native to the area can be attributed to the park's sharply divided topography, wide variance in elevation and unique geographical position at the junction of three distinct ecosystems. Made up of lowland forests, cloud forests, palm forests, tree-fern forests, cactus forests, tropical yungas forests, montane scrublands, pampas and much, much more, Amboró's vegetational diversity is truly astonishing.
Due to difficult terrain and lack of infrastructure, much of Amboró has never been botanically surveyed, meaning there are likely many more plant and animal species yet to be discovered.
Weather
With an altitude ranging from 300 up to 3500 meters above sea level, Amboró National Park has varying climatic conditions.
Following a bi-seasonal cycle, the highest temperatures can be felt between December and January, dropping to cooler temperatures in the months of July and August. At higher elevations the climate is temperate with frosts occurring in the coldest months. Characterised by a more pronounced topography, the foothills of Amboró is where you'll experience hotter and more humid weather.
Rainfall varies between 600 mm and 4,000 mm annually with more rain being observed in the north than the south. The rainy season occurs between October and April with a maximum in January and the dry season extends from May through to September, with a minimum in July.
The best time to visit Amboró is in the dry season. Despite the cooler weather, this is the time when trails are less muddy and there are fewer mosquitoes hovering about.
North Side vs South Side
Amboro National Park is divided into two distinct sections; the highland region in the north and the lowland region in the south. Separated by a narrow trail called the "red line" the park is comprised of two administrative zones, the National Park encompassing 442,500 hectares and the Integrated Management Natural Area (IMNA) with 195,100 hectares. Effectively a multi-use zone, the IMNA was put in place to harmonize the conservation of biological diversity with the sustainable development of the local population.
Differing in landscape, vegetation, climate and wildlife, both sides of the park offer a breathtaking glimpse into one of Bolivia's most beautiful regions.
North Side
Despite its beautiful towering rainforest and rich animal life, the northern side of Amboró sees very little tourism. Most tours are conducted 3km inside the "red line" where hikers can visit local communities to learn about the park's rare species of plant and wildlife. Consisting of waterfalls, natural pools, rivers and streams, this portion of the park is a spectacular destination for those looking to explore the deepest areas of the green and mysterious jungle.
South Side
The south side of Amboró National Park is located in a mountainous area making access to the IMNA  section of the park more difficult than on the north side. On the south side, vegetation is less dense, the climate isn't as humid and there are fewer rivers and streams. The south side is also home to the rare spectacled bear as well as other species of endemic wildlife.
Popular Things To Do
Visit the unique and picturesque region of Mataracú where you can try to spot rare animals like the giant sloth
Cool off after a strenuous trek in one of Amboró's many crystal clear waterfalls and mountain streams
Rappel down Jardin de las Delícias waterfall
Canoe, raft, fish and kayak along the river of Cajones del Ichilo
Hike along the beautiful trails of La Orquídea, La Cascada, El Cóndor, Los Loros, Bosque Seco y Amboró
Soak in spectacular panoramic views over the Volcanes mountain range at Mirador Loma Borda
Observe giant trees, medicinal plants, ferns and much more on the well maintained "Las Palmeras" hiking circuit
Go horseback riding along one of the many eco trails near the Chonta Carbones community
See caimans and other jungle animals at Laguna Verde
Walk along the "Dinosaurios" path where you can explore mysterious caves, enormous ravines and see dinosaur fossils with your very own eyes
Explore Amboró National Park with experienced local guides learning about the park's exotic flora and fauna
Discover exotic bird species such as the Andian Condor, the Black-Chested Eagle, the Paraba Militar and the Emerald Tucan at Refugio Los Volcanes
Stroll through Amboró's beautiful cloud forest peering up at the giant ferns, a plant species so old it used to be dinosaur food!
Spend some time in the Amboró Interpretation Center to learn about the different biological, geographic and cultural values of the National Park
Have a picnic at the beaches of the Surutu River
Bolivian Life Quick Tip:
As voted the best way to travel around Bolivia and Peru, we highly recommend choosing Bolivia Hop as your means of transport. Their safe, flexible and trustworthy service have proven to be the best way of getting the most out of your time in South America!
Tours
By law tourists may only enter Amboró National Park with a certified guide. There are plenty of tour operators serving the national park offering different programs for varying lengths of time.
The average cost for a good quality 2 day / 1 night tour is around $120 US per person which typically includes the following:
Experienced local guide
Accommodation in tent, cabin or lodge (depending on tour price)
Meals and water
Hikes and night safari
Entrance fees
Private transportation from Santa Cruz – Amboró Park – Santa Cruz
Most tours can be paid for in advance by credit card. You can book via email or on a walk-in basis directly in Santa Cruz or in the smaller towns of Samaipata and Buena Vista. If possible, try to organize a group of 4 or more people to travel with as prices become cheaper the more people sharing a tour.
When booking a tour, it's important to note that quality and standards do vary significantly according to price. Higher tour prices usually mean tour staff are paid well year round, guides are professional and knowledgeable, accommodation is comfortable, and tour companies are environmentally conscious.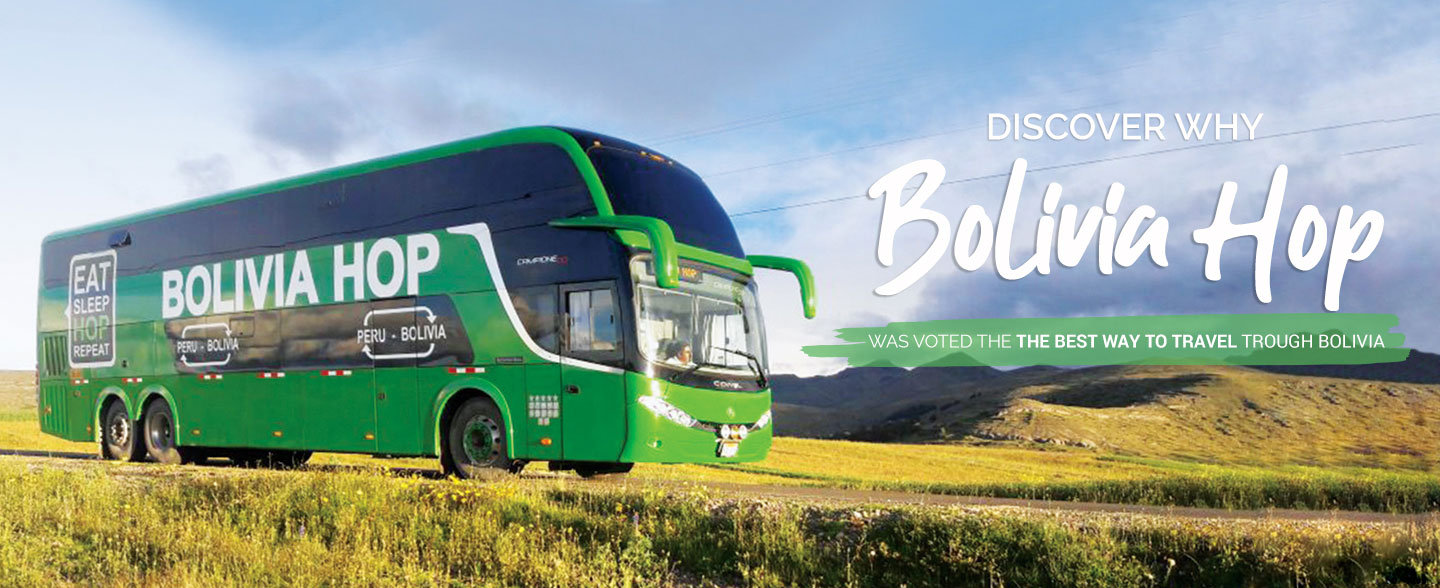 FIND OUT WHY
Getting There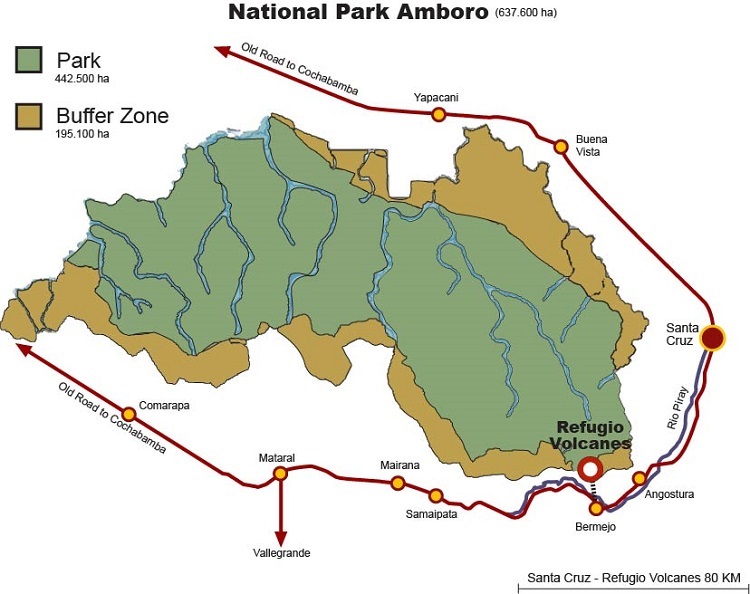 Access to Amboró National Park is made easy via two roads connecting the cities of Cochabamba and Santa Cruz. Only a three hour drive west of Santa Cruz, the National Park can be reached using either the old south road or new north road depending on which side of the park you wish to access:
Entrance to the South Side
Built in the 1950's, the once asphalted southern road was left decaying after the opening of the northern route in the 1980's. Today tourists must travel along a dirt road to access the south side of the park. The main access point to the more developed areas of the national park are via secondary gravel roads departing from the towns of El Torno, Samaipata, Mairana, Pampa Grande, Mataral an Comarapa, which are all located on the main highway.
A popular gateway to the south of Amboro is the pretty town of Samaipata. A 3 hour ride from Santa Cruz, you can reach Samaipata via taxi, public mini-bus, or private vehicle:
Public Mini-Bus: Take the no. 8 bus from the Santa Cruz bus terminal located on Avenue Omar Chavez Ortiz 1147 on the corner of Soliz de Olguin. Buses leave with at least 4 passengers and cost around $4 US for a one way ticket
Taxi: Shared taxis leave from calle Aruma and Grigota (just past second ring) costing around $4 US per person. You can book the whole taxi from Santa Cruz to Samaipata for around $18 US one way.
Private vehicle: Take the old road to Cochabamba up to Samaipata
Entrance to the North Side
The main access points to the northern side of the park is via the town of Buena Vista which is located along the northern Cochabamba / Santa Cruz road.
A 1.5 hour scenic ride from Santa Cruz, you can reach Buena Vista via taxi, public mini-bus, or private vehicle:
Public Mini-Bus: Leaving in the morning and evening from the old "terminal de buses" on calle Isos.  Take buses heading to "Yapacani" and get off at Buena Vista's main square. A one way ticket is around $3 US
Taxi: You can book the whole taxi from Santa Cruz to Buena Vista for around
Private vehicle: Take the new paved road to Cochabamba up to Buena Vista
Once in Buena Vista, it's worth stopping by the Amboró Information Centre where you can gain up-to-date information on exploring the park
From Buena Vista into Amboró only 4×4 vehicles are recommended. Access to La Chonta, Macuñucu and to the Yapacaní River can be obtained via one of the several dirt tracks that lead off the main road.
Once inside the park, tourists can delve deeper into the jungle via the small trails and riverbeds surrounding the area.
Where To Stay
Ranging from basic camping to comfortable wooden cabins and well organised eco-resorts, the following accommodations are ideally located for excursions into the stunning Amboró National Park:
Mataracú Tent Camp (north side)
La Chonta Lodge (north side)
Villa Amboró (north side)
Refugio Los Volcanes (south side)
La Yunga Eco Lodge (south side)
Travel Tips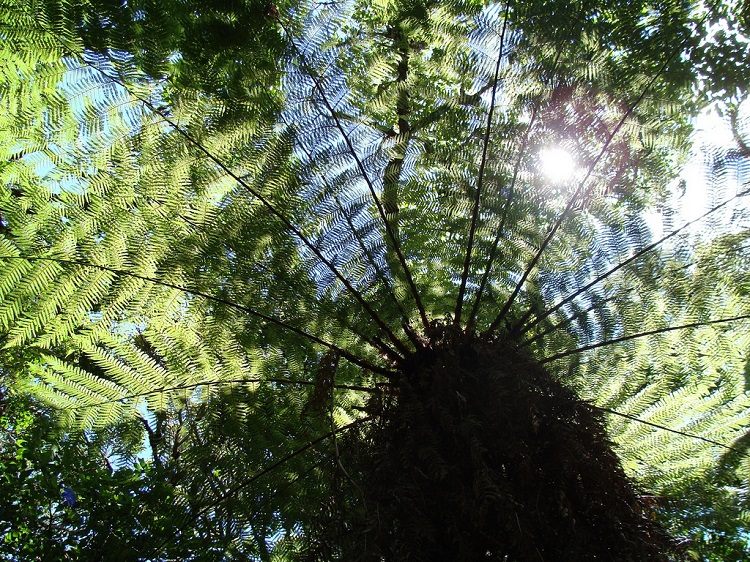 Be prepared for varying weather conditions. Bring a flashlight, sunscreen, sunglasses, hat, long sleeve shirt, long pants, insect repellent, boots and waterproof clothing
Be extremely careful during the rainy season when roads and tracks become muddy and treacherous. To enter one of the roads into the park you will need a 4×4, especially during heavy rainfall
In wet weather, rivers can become difficult to cross within hours. It is possible to get stuck for 1 or 2 days while waiting for water levels to drop, something to be aware of if you have scheduled flights or other commitments
When visiting Amboró, always bring a local guide and a map. Be sure to register with the park administration before entering and leave your itinerary
To minimize the risk of malaria and insect bites, it's recommended to wear long sleeved shirts and trousers, sleep under a mosquito net and to use insect repellent containing DEET, especially at night (see our guide to protecting yourself against mosquitoes). We also recommend consulting a physician prior to visiting Amboró to get the most up to date advice on medications and vaccinations
Do not feed or touch wildlife as it changes their natural behaviour and encourages interaction with humans
Take only pictures, leave only footprints. Don't remove anything from the park including plants, nuts, seeds etc.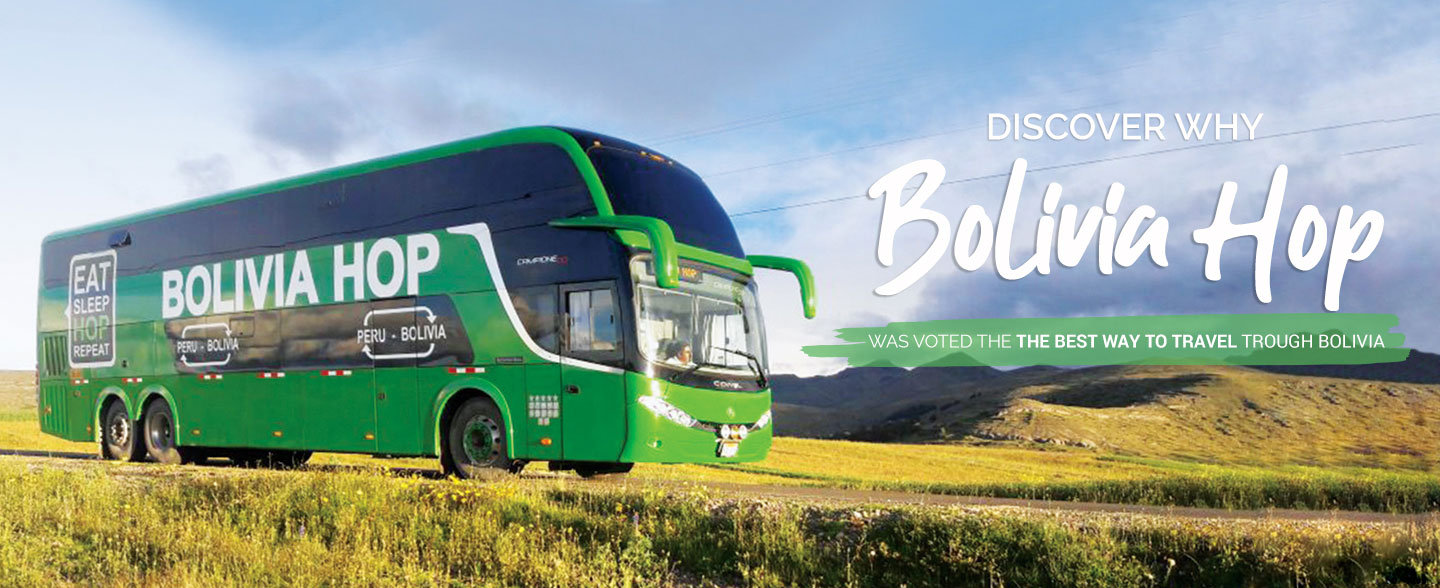 FIND OUT WHY