Boasting stunning landscapes, colourful markets, vibrant fiestas and historic landmarks, Bolivia is a dream destination for many a traveler.
Overshadowing this rich tapestry however is a nation deep in poverty. The country is home to a large indigenous population living in unimaginable circumstances and sadly the elderly, infirm, disabled and young are the most vulnerable. In Bolivia you will see many children working on the street instead of at school in order to survive.
Types Of Volunteer Options Available
Fortunately there are a number of wonderful organisations throughout Bolivia providing constructive and worthwhile projects to help improve the lives of the country's most afflicted.
Various volunteer programs aim to promote assistance in education, healthcare, human rights, economics and the environment. Options include working with animals, applying medical skills, teaching English, building houses, helping the homeless, social media marketing, and much, much more.
No matter your skill-base, age, education level or length of stay, there are opportunities available to anyone willing to help.
What To Expect From Your Placement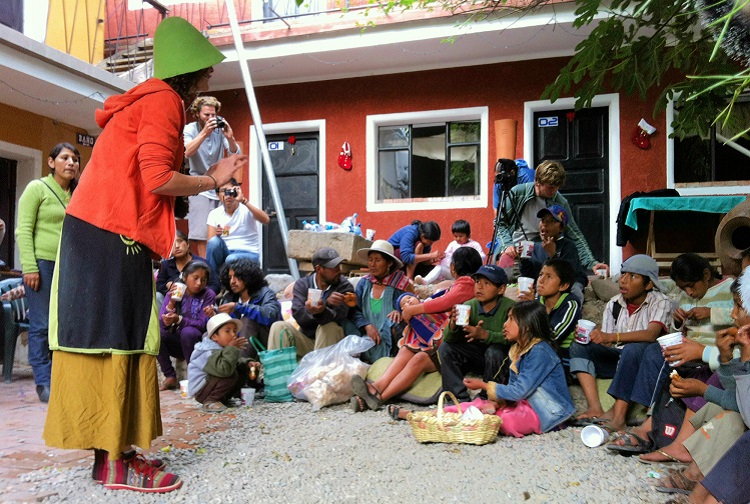 Travelers looking to volunteer in Bolivia should be under no illusion that the experience will be easy, smooth sailing or even enjoyable. Placements can be frustrating, scary and difficult, with many tourists expecting to entice change, only to be met with unfair bureaucracy, minimal organisation and lack of funding.
That being said, volunteering in Bolivia can also be life-changing, fulfilling and amazing. If approached with careful research, an open mind, flexible nature and can-do attitude, working to help others will allow you to make positive impacts, build relationships, learn new cultures and discover the true spirit of a country; something that can not always be achieved as a tourist.
While volunteering aims to improve the lives of individuals, it is the rippling effect throughout a community which shapes the future for generations to come. You may never get to witness the fruits of your labour, but remember, what may be a small change in your eyes can be life-changing to the receiver.
At the end of the day, if you're volunteering for the right reasons and with the right attitude, the benefits will be reciprocal. Leave your expectations at the door, listen to concerns, and look for the ways your individual experiences and skills can help to make a difference.
Where To Volunteer
Due to Bolivia's poverty and lack of resources, there is a significant need for volunteers.
While there are many locations throughout Bolivia that require assistance, the departments of Santa Cruz, La Paz, Sucre, Tarija and Cochabamba are most conducive to tourists. These destinations are recommended not only for their relative prosperity and developing infrastructure, but for their temperate climate and easy access by public transport.
Below we have listed some truly inspiring organisations to consider when traveling through the heart of South America:
Please note, the majority of placements on this list do not require a fee to volunteer, however a couple do ask for a basic admin fee . We advise contacting the organisations directly for more information.
You can also read Brigid's personal experience volunteering with Inti Magazine, helping to improve the lives of Sucre's working children.
Accommodation Options
As an alternative to a hostel, many of the volunteer placements provide the option of a homestay, giving travelers the opportunity to play an active part in the local community as well as experience the unique customs, traditions, and cuisines of Bolivia. Spending time with a local family encourages relationship building, providing both the volunteer and host with memories that will last a lifetime.
Volunteers are usually required to cover their own living costs, but most organisation are able to provide guidance in finding short or long-term accommodation, Spanish schools, tours etc.
Visa Requirements
Before committing to a volunteer position in Bolivia, make sure to research if you require a visa. The type of visa you will require (if you need one at all) will depend on which country you are from and on how long you intend to stay in the country. For more information, see the following post:
Volunteer Tips
Have you volunteered in Bolivia? Share your experience in the comments below: