Buñelos are a popular snack throughout Latin America. While they can be eaten at anytime, Bolivian tradition sees them eaten on Christmas morning with syrup and hot chocolates. Here's a recipe for these tasty treats.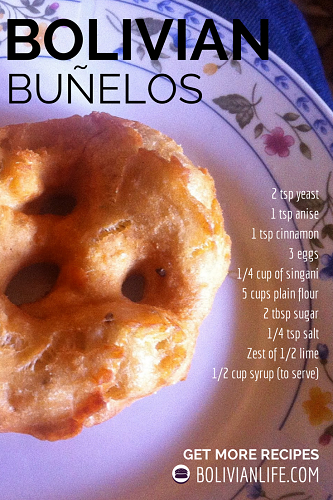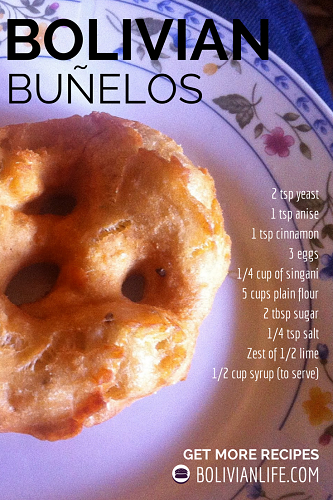 Ingredients:
2 tsp yeast
1 tsp anise
1 tsp cinnamon
3 eggs
1/4 cup of singani
5 cups plain flour
2 tbsp sugar
1/4 tsp salt
Zest of 1/2 lime
1/2 cup syrup (to serve)
Method:
Mix 1/3 cup of warm water and the yeast, letting stand for 15mins.
Soak the anise in 1 cup of water and wait 1 minute.
Slowly add in the flour, mixing constantly.
Add the cinnamon, lime zest, eggs, pisco, salt and sugar, and stir.
Add the yeast mix and stir in.
Kneed into a (sticky) dough, adding a bit more flour if needed.
Let the dough stand covered with a kitchen towel, until it doubles in size.
On a floured surface, make golf-ball size balls of dough and press flat, making it very thin in the center and fatter on the outside. Poke several holes through the thin center.
Fry in very hot oil, until golden brown.
Serve with syrup.
Bolivian Life Quick Tip:
As voted the best way to travel around Bolivia and Peru, we highly recommend choosing Bolivia Hop as your means of transport. Their safe, flexible and trustworthy service have proven to be the best way of getting the most out of your time in South America!