At the beginning of February each year, people from all over the world make the pilgrimage to the glimmering shores of Lake Titicaca to honour the Patroness of Bolivia, Our Lady of Copacabana.
Copacabana
comes alive with music, eating, drinking and dancing to celebrate a mixture of traditional Andean beliefs and Catholic tradition. Our Lady of Copacabana, also known as the Dark Virgin of the Lake, is revered in Bolivia for a series of miracles she is believed to have worked in the area. According to local legend, in 1576, some Inca fisherman were caught in a treacherous storm on Lake Titicaca. As they prayed for their lives, the Virgin Mary appeared and guided them to safety. To show their immense gratitude, the fishermen built a large shrine housing a statue of the Virgin sculpted by Tito Yupanqui; a man who experienced his very own sighting of the Virgin in the same year the storm occurred. According to accounts, the Virgin Mary appeared in a dream to Yupanqui, who at the time wasn't a sculptor. He was so moved by the vision that he made his way to Potosi where he learnt how to sculpt, hand-carving the now venerated statue. Upon completion, Yupanqui carried the statue 400 miles on foot to Copacabana where he placed it in a chapel. It is said that the crops of those who doubted the statue's power were inexplicably destroyed. To this day, the four foot statue remains safely inside the the Basilica de Virgen de la Candelaria, as celebrants believe if they take her outside, there is a risk of another turbulent storm occurring. On festival days, an elaborately dressed replica is taken out instead. Throughout the three day Fiesta de la Virgin de la Candelaria, people pray and party in the streets, celebrating the Virgin with gusto. Highlights include the blessing of new vehicles by priests with beer as well as a 'running of the bulls' on the third day where inebriated locals avoid being gored by the 100 or so bulls stampeding along Yampupata road.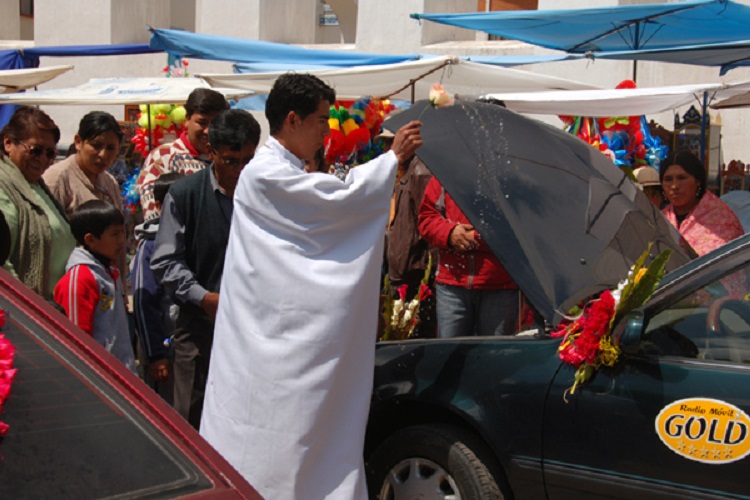 What makes this Bolivian festival so special are the colourful costumes and traditional Aymara dances performed enthusiastically throughout Copacabana's streets. Also a highlight are the tasty traditional dishes served up by friendly road-side vendors and the free flowing of beer, sure to lift anyone's spirit. If you're in planning a trip to Bolivia at the start of February, make sure to swing by Copacabana in order to experience breathtaking views over Lake Titicaca while enjoying one of the country's most fun-filled festivals.
Bolivian Life Quick Tip:
As voted the best way to travel around Bolivia and Peru, we highly recommend choosing Bolivia Hop as your means of transport. Their safe, flexible and trustworthy service have proven to be the best way of getting the most out of your time in South America!
Have you celebrated Fiesta de la Virgin de la Candelaria? Share your experience in the comments below: 
From the 2nd to the 5th, the usually sleepy fishing village of