Papas Rellenas is a Peruvian dish eaten throughout the Andes. Literally meaning "stuffed potatoes", papas rellenas consist of a ball of mashed potato which is stuffed with a filling, battered and deep-fried. Preparation of the dish varies slightly from place to place. Here is a recipe for papas rellenas the way the locals make them here in Bolivia.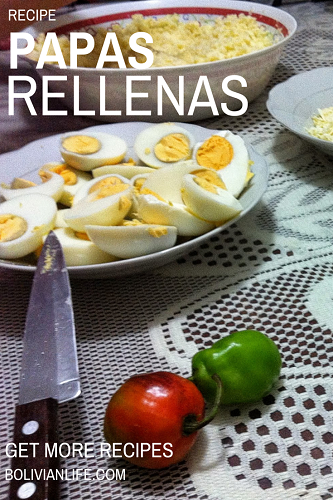 Ingredients:
(for the stuffed potatoes):
8 medium sized potatoes
2 eggs
1/4 cup of cheese (grated)
500ml cooking oil
(for the batter):
1 egg
1/2 tsp ground black pepper
1/2 tsp cumin
1/4 cup water
2 tbsp sweet paprika
1/2 cup plain flour
Method:
Peel and boil the potatoes until they break apart easily when pushed with a fork (approx 20 mins).
Meanwhile, hard boil 2 of the eggs by placing in a pan with cold water, covering the eggs by at least an inch. Gently bring to the boil, then remove from the heat and rest in the water for 15 minutes. Rinse in cold water, tap the shells all over and peel. Slice the eggs in half long-ways.
Drain and mash the potatoes, then take golf-ball sized chunks of the potato one at a time and pat into a flat disc the size of your palm.
Place either an egg-half or an equivalent amount of cheese on top of the disc.
Working the potato in your hands, wrap potato around the filling and close to form a ball shape.
In a bowl, place the remaining egg, the spices and the water.
Add the flour slowly while beating the mixture, until it starts to take on a paste-like consistency, while still being slightly runny.
Heat the oil in a pan to a medium-high heat.
One at a time, coat each potato ball fully in the batter then add to the pan. Cook until golden brown, turning as necessary to ensure all sides are cooked. Remove from the pan and drain.
Serve.
Bolivian Life Quick Tip:
As voted the best way to travel around Bolivia and Peru, we highly recommend choosing Bolivia Hop as your means of transport. Their safe, flexible and trustworthy service have proven to be the best way of getting the most out of your time in South America!