In South America, there are many beautiful and picturesque locations, such as the unique Salar de Uyuni. Located in the southwestern part of Bolivia, lies the world's largest salt flat known as, Salar de Uyuni. In South America, there are many beautiful and picturesque locations, and Salar de Uyuni is the perfect example of this.
Official Salar de Uyuni Website: www.salardeuyuni.com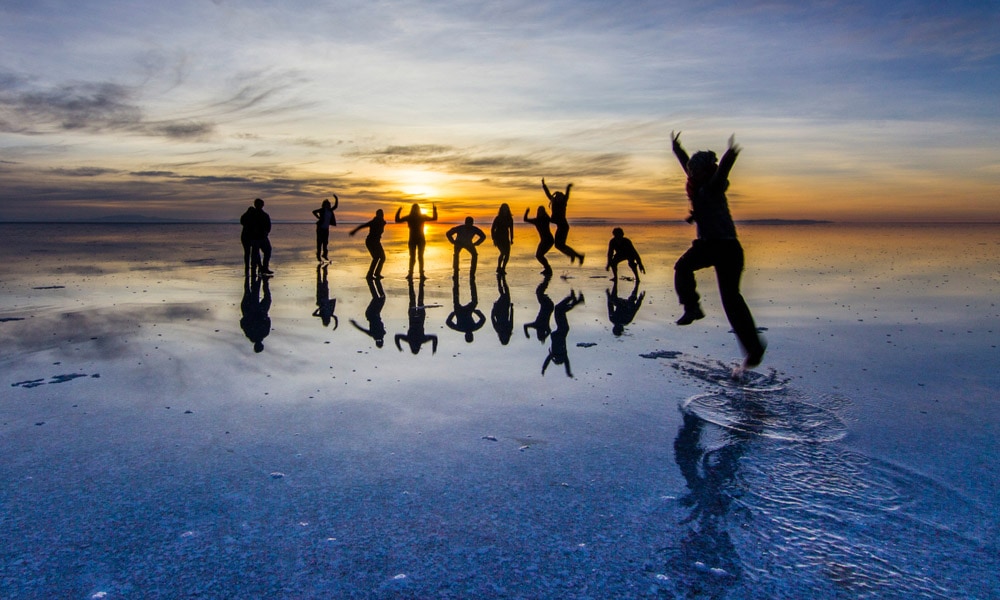 Located in the south-western part of Bolivia lies the world's largest salt flat known as Salar de Uyuni. Salar de Uyuni, which when translated means, "salt-flat at Uyuni", is quite unique. This Bolivian salt-flat plays an important role in both the economy and the environment of Bolivia as well as being a visually stunningly destination.
In South America, there are many beautiful and picturesque locations, such as the unique Salar de Uyuni. Located in the southwestern part of Bolivia, lies the world's largest salt flat known as, Salar de Uyuni.
How Important is Salar de Uyuni?
There are many different salt flats located around the world, but none have quite the same magnitude as Bolivia's Salar de Uyuni.
From its size to its regional significance, Salar de Uyuni continues to fulfill the needs of mother nature, as well as mankind.
The History of Salar de Uyuni
According to legends, the origin of Salar de Uyuni is far more mystical than the idea that mother nature helped to create it.
If you ask many who believe the Aymaran legends, they say that the mountains surrounding Salar de Uyuni were gods.
Their belief is that the mountains were once people and that Tunupa mountain and Kusku mountain were married. Tunupa at some point deserted his wife Kusku for Kusina. Kusku was left heartbroken and her tears are what formed the salt flats.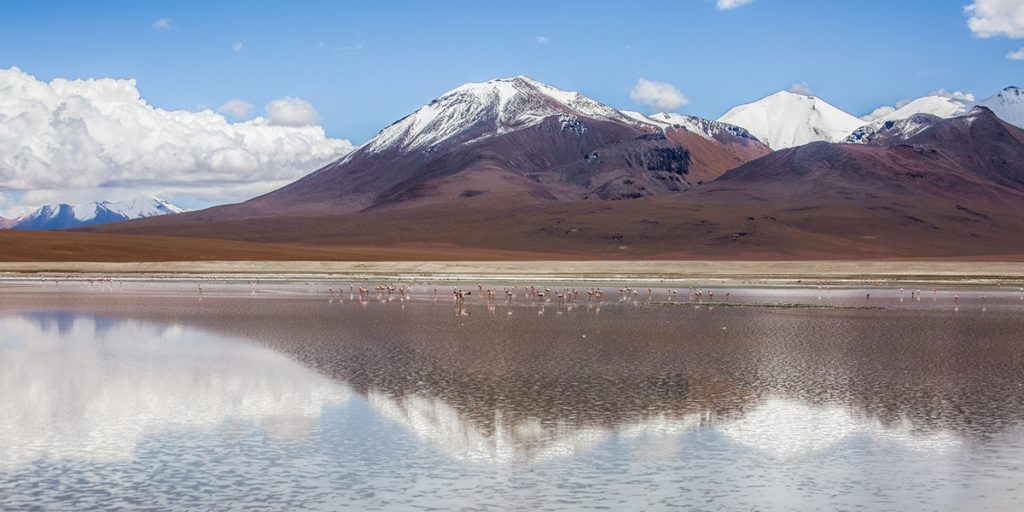 There is yet another version of the story believed by many local farmers living along the lake's shore.
For them, they believe the mountain goddess Yana Pollera (the nearest peak to the salt flat) was involved with both Thunupa and Q'osqo.
After Yana became pregnant the male volcanoes fought over who was the father. Out of fear for the child, Yana sent the child away for protection but grew worried about its survival. She flooded the plain with milk for the baby and when it dried, the salt is all the remained.
In reality, the real reason for the formation of Salar de Uyuni is much less mystical. 40,000 years ago, Salar de Uyuni was covered by Lake Minchin due to having no drainage. The water began to collect from the surrounding mountains.
Over time the lake transformed into Paleo Lake Tauca and other smaller lakes. As the climate changed, the high salinity water began to evaporate, leaving behind the thick salt crust that we see today.
With evaporation rates of ten times the precipitation, Salar de Uyuni provides a never-ending salt supply.
What Makes Salar de Uyuni Unique?
When comparing salt-flats around the world, Bolivia's Salar de Uyuni stands apart from other salt-flats. Several key features of Salar de Uyuni help to enhance not only its beauty but also its sheer uniqueness.
The Size of Salar de Uyuni
The sheer size and vastness of the landscape of Salar de Uyuni will leave you in awe. Salar de Uyuni is actually the world's largest salt flat, stretching approximately 4,086 square miles (10,582 sq. km). It sits near the top of the Andes at an elevation of 3,656 meters (11,995 ft) above sea level.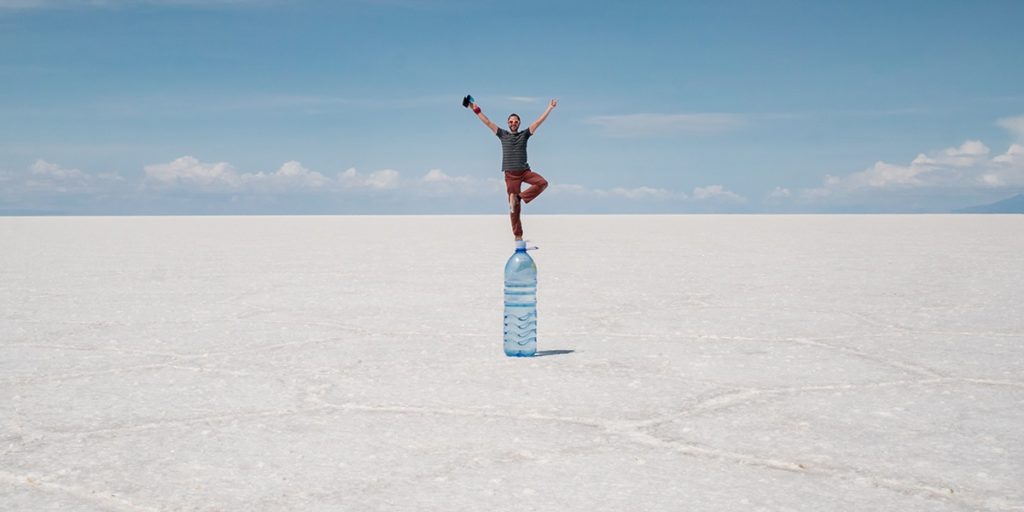 The Salar de Uyuni is also extraordinarily flat and has an average altitude variation within one meter over the entire area. This is mainly due to the seasonal rains and flooding that dissolves the salt layer.
After the water evaporates, the salt flat is left level again. This cycle is what makes Salar de Uyuni one of the flattest places in the world.
Salar de Uyuni Visual Effects
Salar de Uyuni is one of the flattest places on the planet and experiencing standing in such openness is an amazing feeling. During the rainy season, December through April, the incredible experience of the salt flats is amplified by the flood water that sits on top of the Bolivian salt flats.
On still days the water turns the place into the world's largest mirror, where it can become difficult to distinguish the water from the sky.
Photographers from all over the world flock to the salt flat to take pictures of this visual phenomenon. With the water, the landscape becomes truly flat and appears endless, excluding a few cacti.
Salar de Uyuni Mineral Content
Despite the fact that Salar de Uyuni is a salt flat, there is actually a lot more than just salt on the ground. Underneath the thick salt crust that serves as the ground of the salt flat lies a mineral-rich brine.
The salt itself contains huge amounts of sodium, potassium, and magnesium as well as borax. The brine beneath the salt is a mixture of sodium chloride, lithium chloride, and magnesium chloride.
The brine is exceptionally lithium-rich. So rich in fact that well over 40% of the world's known lithium reserves lie beneath the Salar de Uyuni.
The Impacts of Salar de Uyuni
Salar de Uyuni has a huge impact on nearly everyone around the world, despite not being a household name.
The Natural Impact
Although Salar de Uyuni has nearly no plants or animals that call it home, there are a few that thrive there. The Hedgehog Cactus, also called the Sea-urchin Cactus, is one such plant that does very well in the environment. Other plants like shrubs Pilaya and Thola also thrive without much of a problem.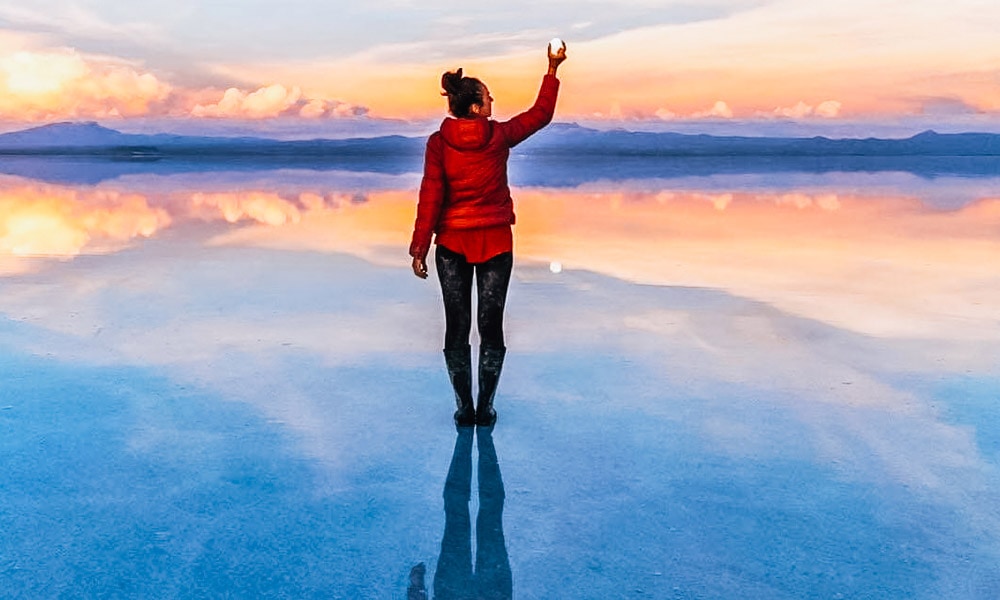 The salt flats are also home to about 80 species of birds and are the breeding ground for three species of the South American pink flamingo, one of which, James Flamingos, can only be found here thanks to the high elevation and the mineral-rich waters.
There are also horned coots, Andean geese, and Andean hillstars. The flamingos migrate here during the month of November. The salt flats are called home for the Andean fox and vicunas that are also native to the region.
The Economic Impact
Salar de Uyuni plays a huge part in economic prosperity for Bolivia. Because of the salt flats, Bolivia is one of the largest exporters of both salt and lithium in the world, as well as other minerals and agricultural goods.
Salt is and has remained a highly used commodity world-wide, and in Bolivia, around 25,000 tons of salt are extracted per year. Keep in mind Salar de Uyuni is estimated to hold about 10 billion tons of salt, and thanks to the evaporation to rainfall correlation, it is unlikely to run out any time soon.
Besides salt, one of Bolivians most important exports for the modern world is the exportation of lithium from its massive reserves. The lithium that lies in the brine beneath the surface is of a very high concentration. So, by pumping out and processing the brine, the lithium can be easily extracted.
There was a brief period that foreign companies tried to extract resources from Bolivia, however, opposition from locals forced their closure. Today locals and the Bolivian government supervise the extraction process of the country's many resources.
Visiting Salar de Uyuni
If you're looking to explore somewhere new and unique, then consider traveling to Bolivia and exploring the Eduardo Avaroa National Andean Wildlife Reserve, inside which the salt flats are located. You will be able to explore the stunning landscape of Salar de Uyuni for yourself.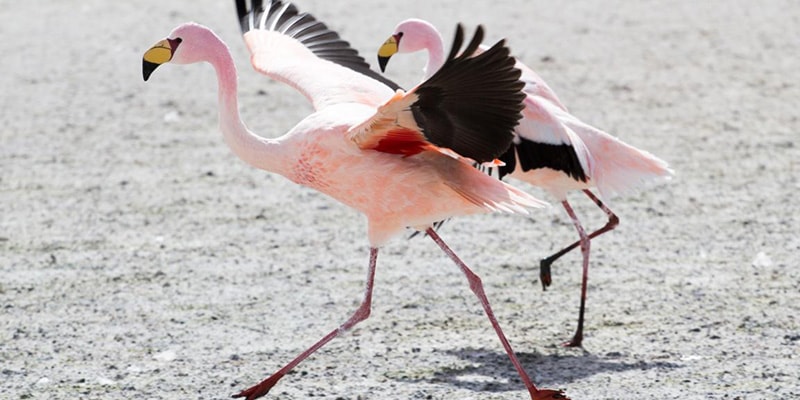 Regardless of the time of year or season, a trip to Salar de Uyuni will be forever remembered as the trip of a lifetime. With breath-taking landscape and scenery, seeing the rainy season mirror effect in person is a truly remarkable experience.
Planning Your Trip
Visiting Salar de Uyuni at any time of the year is an amazing experience; however, the wet and dry seasons offer a vastly different visual experience. Deciding on when the best time to visit Salar de Uyuni is really up to you and your preference.
Salar de Uyuni Dry Season
The dry season here runs from April to November. During these months you can expect less precipitation or rain as the summer months are approaching. If you are looking for the best climate then typically September to November is your window of time.
Salar de Uyuni Wet Season
For those interested in seeing the mirror
effect, the best time is from December to April. In April, you have the opportunity
to experience both the dry salt flats as well as the mirror effect with water.
The scenery can be quite surreal especially on a clear day. The temperature
tends to peak at a high of 21°C from November to January.
If you are specifically interested in seeing the mirror phenomenon, then January is usually the best time to visit, however, travelers should be aware that some areas may be closed or inaccessible due to the water, and there are often more travelers here at this time.
Salar de Uyuni Weather
In terms of temperature, you can expect generally sunny warm weather during the daytime, and freezing, cold winds at night. Make sure to pack your things appropriately at this time.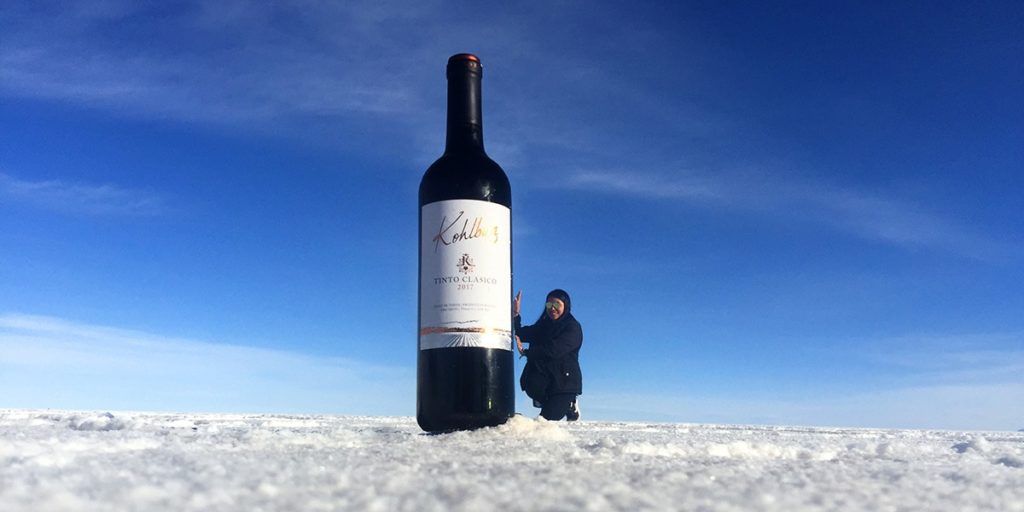 During summer months the weather is rather cold and dry. The fall, however, is slightly warmer and there is more rain. It's not uncommon to experience temperatures below 0 C down to -15 C, particularly at night. This is especially true from May to August.
When is the Best Time to Visit Salar de Uyuni?
Any time of the year is perfectly fine to experience Salar de Uyuni. Much of this decision comes down to the type of landscape that you would like to see while you are traveling. Keep this in mind while planning your trip.
Thanks to the layout and the expanse of the flats, it is strongly recommended to use a tour to experience this place. This is the only way to be sure that you will see all of the attractions. It is not possible to see the flats on foot.
Types of Tour Available
There are several types of tours available. Whether you are in a rush, or if you have the time to explore these incredible Bolivian salt flats thoroughly make sure that you choose the tour that is perfect for you.
One Day Tours of Salar de Uyuni
When in Uyuni you can book a tour for Salar de Uyuni. There are a few different types of tours that can range from one day to multiple days. You can typically find a full-day tour of Salar de Uyuni for around $60 to $80.
There are a number of recommended tour operators available such as Red Planet Expedition, Perla de Bolivia, and Camel Expeditions. You can compare these tours using FindLocalTrips, the website that allows you to search and compare trips and activities from all over South America.
These one-day tours typically include round trip transportation, lunch, and English-speaking guides. Be aware that the admittance fee for entry into the National Park or the islands that you'll visit is not included in the price of a tour, so be prepared and check what is included in your fee closely.
Look out for:
Popular stops on the one-day tours are by the historic train cemetery otherwise called, "Cementerio de trenes". This major tourist attraction was built during the end of the 19th century by British engineers.
At the time the Bolivian government believed Bolivia would flourish with a good transport system. However, the project was constantly sabotaged by the local Aymara Indians who felt it was an intrusion.
As the minerals depleted and the industry began to collapse, many of the trains were abandoned. The result has become a historic reminder of the Bolivian way of life and an attraction for lots of first-time visitors to Uyuni.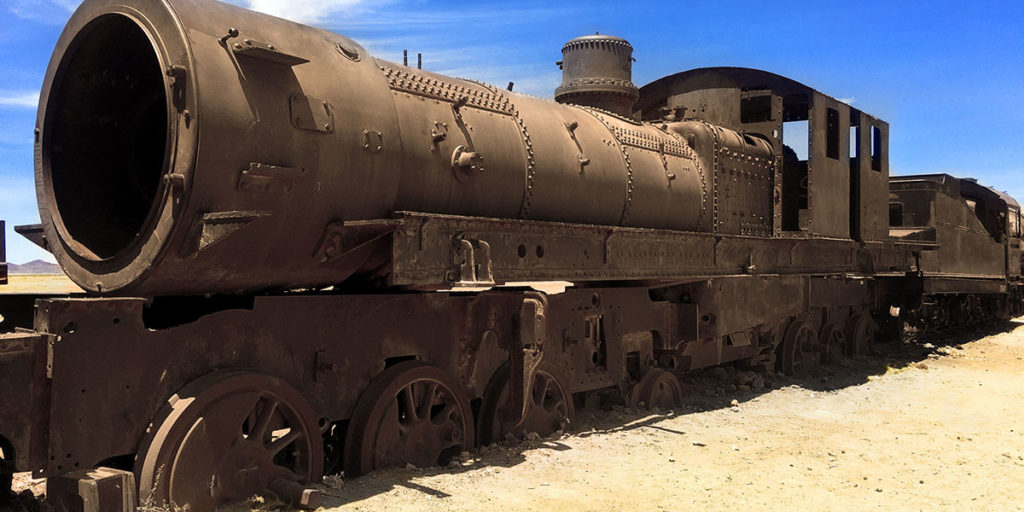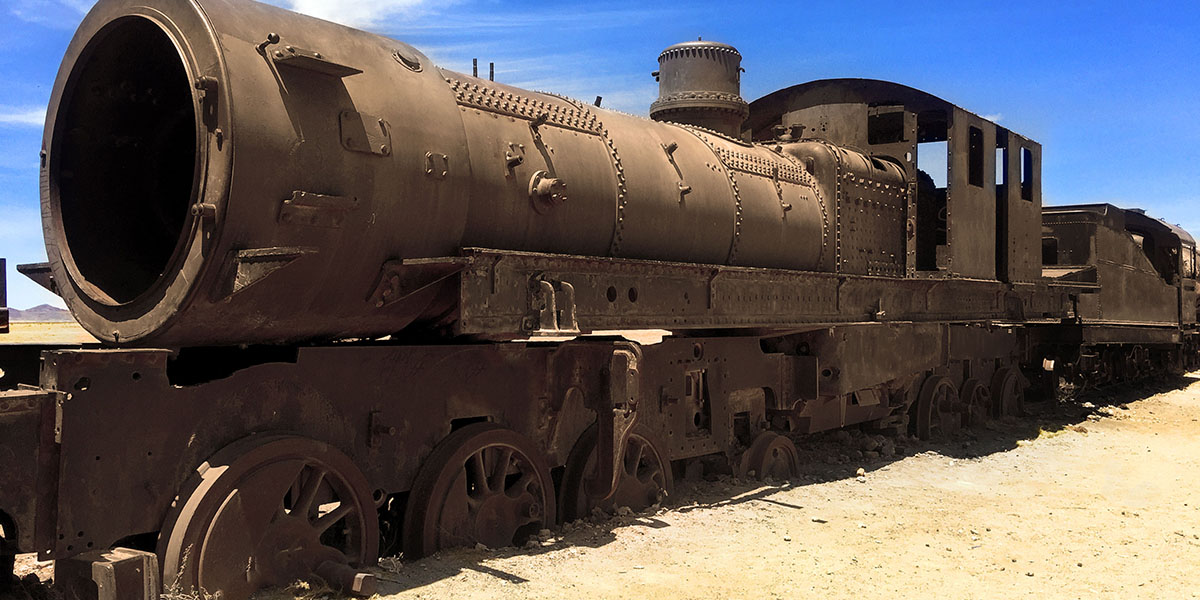 3 and 4 Day Tours of Salar de Uyuni
If you have more time to explore then perhaps a three-day or four-day tour may be of interest to you.
Depending on where you want the tour to start and finish, as well as how much time you have will help determine which is the right tour for you.
Trusted operators Red Planet Expedition, Perla de Bolivia, Camel Expeditions, and World White Travel all offer 3 days/2 nights tours. In addition, World White Travel also offers a 4 days/3 nights tour as well. These tours usually include very basic sleeping arrangements, meals, 4×4 transportation, and sleeping bags on request. You can search and compare these tours on Find Local Trips.
On these tours, you will get the chance to see pink flamingos, volcanoes, cactus islands, mud pots, hot springs, beautiful colored lagoons and so much more.
Some of the tours start in San Pedro de Atacama, Chile and end in Uyuni City, Bolivia. The four-day tour allows you to start and finish the tour in San Pedro de Atacama, Chile, which might be more convenient for your plans.
What to Pack for Your Tour
When traveling to Salar de Uyuni, you need to remember that you are probably going to be at a much higher elevation than you may be used to.
It is advisable to bring along some altitude sickness pills as well as making sure to take the time to properly acclimatize to the Bolivian altitude before setting off on your journey.
Because of the high elevation, you will be exposed to a more intense level of UV light. It is very important to make sure to bring plenty of sunscreen lotion, sunglasses, and water to help your body stay protected and hydrated during the excursion.
It's also a great idea to bring warm clothes for the night, especially ones that are good for layers. A hat or beanie is also a good item to bring along.
It is also important not to forget to bring extra money for personal things that are not included in the tour such as tipping, admittance to varies facilities, bathrooms, and some extra parks.
You'll want to be sure to bring your own toilet tissue and keep it with you as this is not a common thing to be found in Bolivian public bathrooms. You never know where you might need to use it.
Conclusion
A trip to Salar de Uyuni in Bolivia is an unforgettable experience. Taking in the stunning scenery of the landscape is something very special. If you are curious to know more about Salar de Uyuni you can also check here for information on getting there, setting up tours, and what attractions are available that you might want to see.