Located on the glimmering shores of Lake Titicaca is an unassuming town featuring beautiful nature walks, ancient sites, stunning sunsets and quaint little restaurants.
Only a stone's throw away from La Paz, many tourists crossing the Peru-Bolivia border stopover in Copacabana to relax by the lake, soak in the panoramic views, savor freshly caught trucha, or hike across Isla del Sol; one of the most important sites within Inca mythology.
 Traveling between Copacabana and La Paz – the basics:
Copacabana doesn't have an airport, can only be reached by road.
Best bus company: 

Bolivia Hop

, #1 rated on Tripadvisor as the best way to travel in Bolivia.
Distance between Copacabana and La Paz: Approximately 4 hour journey.
 Keep reading to learn about the main bus route between Copacabana and La Paz, departure times and bus company recommendations!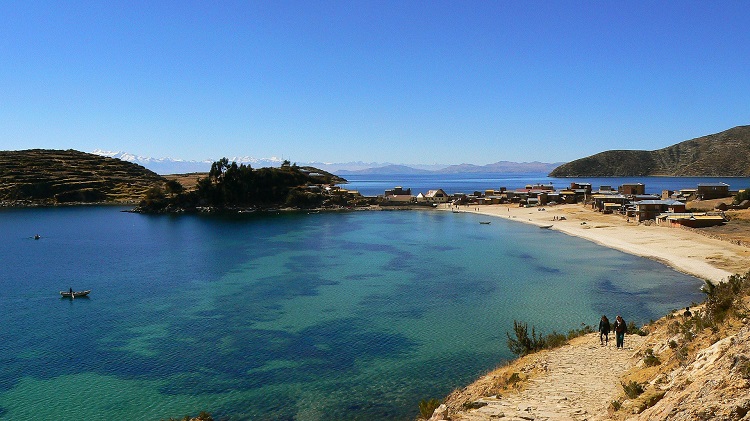 The Drive
Featuring spectacular panoramic views of Lake Titicaca, this is one bus ride in Bolivia passengers will want to stay awake for. The easy-going 4 hour journey – all via paved roads – can be done using public buses or via one of the new Bolivia Hop buses which offer reliable and direct transport between the two locations.
Public Buses
Local vs Tourist Buses
Travelers have two options when it comes to traveling via public bus:
Local buses: these offer the cheapest price, but are slower (they only depart once full, and stop to pick-up / drop-off passengers along the way) and can be unreliable particularly during strikes and inclement weather.
Tourist buses: while more expensive, these are considerably more comfortable and travel non-stop between the two locations.
Bolivian Life Quick Tip:
Although these options are alright, there are times when they're unreliable. For that reason, we strongly recommend Bolivia Hop, a unique hop-on, hop-off bus which was setup by 2 Irish guys in 2014 and was voted the #1 way to travel around Bolivia in 2023! Go further below to read more or check out their page here to learn how it works!
Getting There And Away
Buses From La Paz To Copacabana
Local Buses: depart daily from La Paz's general cemetery every 30-60 minutes between 6am and 5pm. The quality of buses vary from one company to another. You can expect to pay around Bs. 20 ($2.90 US) for a one way ticket. Those wanting to shave an hour off their travel time and happen to be in El Alto can catch a local bus from La Terminal Nueva de El Alto. Buses run until 6.30pm and ticket prices are the same as from the cemetery.
Tourist Bus: depart twice daily at 8am and 1.30pm from La Paz's main bus terminal. The cost for a one way ticket is around Bs. 50 ($7 US) and can be bought in advance from Tickets Bolivia (see form below).
All buses arrive in Copacabana at Plaza 2 de Febrero.
Buses From Copacabana To La Paz
Local Buses: depart every hour between around 8am and 7pm daily. The cost for a one way ticket is around Bs. 20 ($2.90 US).
Tourist Buses: depart at 1.30pm and 6.30pm daily. The cost for a one way ticket is around Bs. 50 ($7 US) and can be purchased in advance from Tickets Bolivia (see form below).
All buses depart from from Plaza Sucre in Copacabana and arrive at the main bus terminal in La Paz or at the Terminal Cementerio, depending on which bus company you use.
Crossing the Tiquina Strait
Approximately 45 minutes from Copacabana is a body of water separating the town from the rest of Bolivia.
Arriving at the Tiquina Straint, all passengers are required to exit the bus, taking any valuables and hand luggage with them. At this point you'll be taken to a small kiosk where you'll be instructed to purchase a ticket (Bs 2 / $0.30 US) before climbing aboard a small boat which will transport you across the strait. After 10-15 minutes you'll meet your bus – which is ferried across on a separate barge – and continue onward to your destination.
Note: Occasionally routine checks are performed at the Tiquina Strait, so make sure to have your passport or immigration papers on you.
Bolivia Hop Buses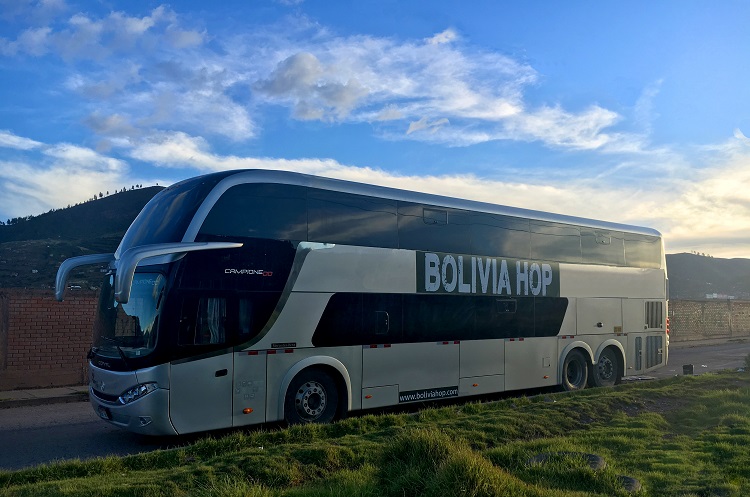 Bolivia Hop is a fantastic option for those wanting easy, safe and direct transport between La Paz and Copacabana.
The Bolivia Hop Experience
From day-trips to week long stays, the popular hop-on, hop-off bus service allows passengers to explore Copacabana at their own pace.
Travelers wishing to explore Isla del Sol can do so on a day or overnight trip, returning to Copacabana in time to take the evening Bolivia Hop bus back to La Paz.
The bus journey itself takes around 4 hours and includes a stop at Taquina Mirador; a beautiful viewpoint with spectacular views over Lake Titicaca and the snow-capped Cordillera Real mountain range.
Ticket Prices
A Bolivia hop pass costs $39 US and includes the following:
Hop on / hop off bus transport between La Paz and Copacabana
Pick-up and drop-off at your accommodation in La Paz
Comfortable buses with seat belts for every passenger and professional drivers
Round trip in a private boat to the south side of Isla del Sol
Entry onto Isla del Sol
Bilingual staff who can assist passengers with any questions before and during the trip
Daily departures
Note: the ride to Isla del Sol is a private boat trip and not a guided tour. Passengers will be given an island map and have time to explore the island independently.
Timetable
Note: For those wanting to travel onto Peru, Bolivia Hop can also assist you with border crossings as well as onward bus transport to various locations throughout Peru. 
Why Choose Bolivia Hop?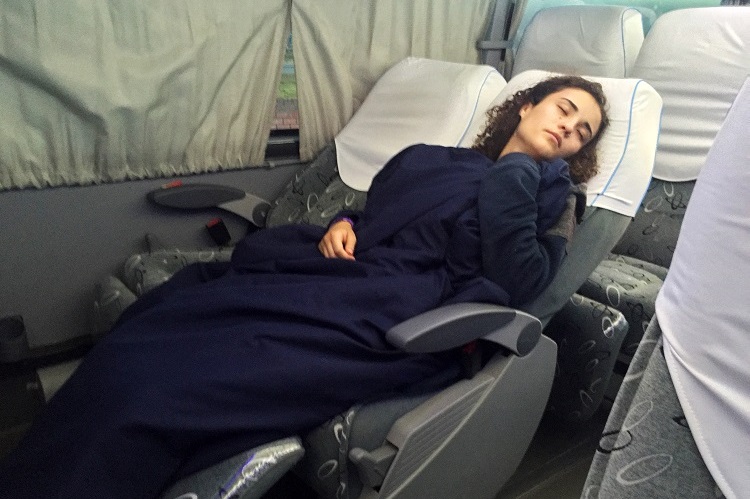 Bolivia Hop offer a free hostel pick-up and drop-off service
All buses come with an English speaking assistant who will help answer any questions and provide insider tips on what to do in the area
Passengers travel in comfort – semi-bed seats, toilet, advanced temperature air control and brake suspension systems
Buses are equipped with seat belts for every passenger and a speedometer alert system
Passengers are treated to on board movies in English as well as large duvet style blankets
The company is European owned and locally operated – local adventure with European levels of safety and service.
For more info, check out 5 Reasons To Cross The Peru – Bolivia Border With Bolivia Hop
Booking A Seat On Bolivia Hop
To book a seat with Bolivia Hop, go to their page here and follow through with their booking process!
Accommodation
If you haven't already, be sure to book your accommodation in La Paz as soon as possible to avoid missing out:
And if you're wanting to know more about visiting Isla del Sol, please check out our guide here.
If you have any advice you'd like to share about travelling between Copacabana and La Paz please leave a comment below: