From incredible treks and cascading waterfalls, to towering jungle forests and rare wildlife encounters, Bolivia is one of the few places left in the world where travellers can experience Mother Nature at her finest. Here we take a look at five of Bolivia's most spectacular national parks:
Madidi National Park
Established in 1995, Madidi National Park is a jungle paradise situated in the in the upper Amazon river basin of Bolivia. Home to a record breaking number of species and plants, the park is not only one of the most diverse ecological hot spots on the planet but one of the largest protected areas in Bolivia. Travelling by boat from Rurrenbaque across the Beni river, tourists stepping foot onto the jungle'€™s muddy floors will delight in the multitude of flora and fauna on offer. Traversing the rugged terrain, you will come across winding rivers, rolling grasslands, mosquito laden lakes, steep slopes, Inca archaeological sights and possibly the seldom seen indigenous people of the tropical rain forest. The best way to experience Madidi National Park is through one of the many ecological and cultural tours providing an authentic and safe jungle experience. Whether it's spotting a giant river otter, smelling the scent of a rare type of flower, learning about the different medicinal plants, or listening out for the chirps of more than 1000 species of bird, this national park has something to offer every nature lover.
A Guide To Madidi National Park
Kaa Iya National Park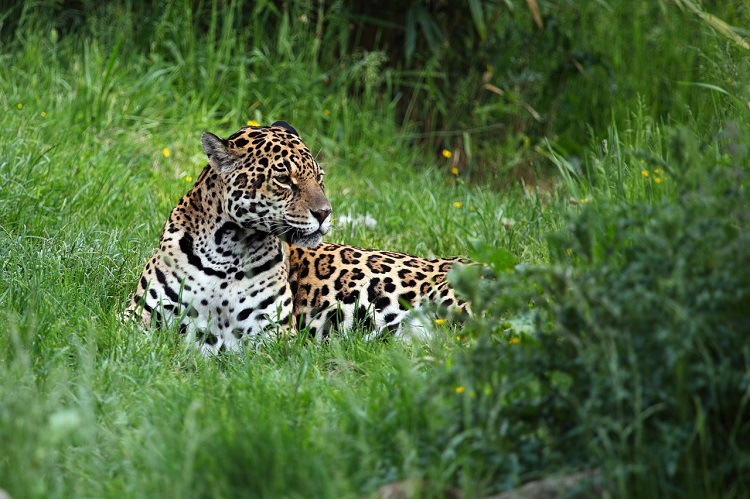 Ever wanted to see a jaguar in the wild? Home to at least 65 species of small mammals and 59 species of large mammals, Kaa Iya National Park contains one of the largest diversity of mammals in South America. Rare animals residing inside Kaa Iya's dry forest walls include black howler monkeys, giant armadillos, maned wolves, pumas, tapirs, snakes, ocelots and an impressive 301 species of bird. Abundant in wildlife, Kaa Iya is also one of the only places left in the world to catch a glimpse of the large felidae, the capybara and the Chacoan guanacos, of which there are only 140 left in Bolivia. Most popular of all the mammals, however, is the elusive jaguar. An estimated 1000 plus spotted wildcats have been recorded inside the park, making it one of the premier destinations in the Americas to see a jaguar roaming freely in the wild.
A Guide To Kaa Iya National Park
Sajama National Park
Presenting a magnificent Andean dreamscape of snowcapped volcanoes, soaring mountains, bubbling hotsprings, bird-dwelling wetlands and vast wild plains, Bolivia's oldest national park makes an exemplary location for photographers and adventurers alike. Spanning an area of 1002 square kilometres, the extensive plains of the altiplano are prime grazing country for the park's legion of vicuñas, alpacas and llamas. Many endemic plants and animals thrive within Sajama's walls, making its continued conservation of great importance to both local and scientific communities. Due to Sajama's universal cultural and natural significance, in 2003 the park was added to the UNESCO world Heritage Tentative List. Renowned for its enchanting scenery, abundant flora and fauna, incredible trekking, and pre-hispanic archaeological sites, it's easy to see why Sajama National Park is one of Bolivia's crowning jewels.
A Guide To Sajama National Park
Amboró 

National Park

For those looking to escape the hustle and bustle of city life, Amboró National Park is a jungle paradise, perfect for unwinding, relaxing and getting back in touch with nature. Located only 40 kilometres west of

Santa Cruz

, in the Andean foothills of Bolivia, Amboró spans a whopping 4,425 square kilometres stretching all the way to the borders of Carrasco National Park in the department of Cochabamba. Noted for its rugged and varied topography, Amboró National Park lies within three distinct ecosystems: the foothills of the Andes, the northern Chaco, and the Amazon Basin. Nowhere else in the world do three such diverse environments coincide, making Amboró a unique host to a wide range of flora and fauna. Featuring beautiful walks, cascading waterfalls, dense vegetation, spectacular landscapes, fascinating archaeology and a great diversity of flora and fauna, it is no wonder that Amboró National Park is one of Bolivia's greatest natural treasures.

A Guide To Amboró National Park
Noel Kempff Mercado National Park
Located over 600 kilometres northeast of Santa Cruz is one of the largest and most pristine parks in the Amazon Basin. Revered for its unique beauty, incredible biodiversity and largely untouched vegetation, Noel Kempff Mercado National Park is one the few places left on earth to experience a truly untouched wilderness. Sharing a border with Brazil, Noel Kempff covers 16,000 square kilometres of land, much of which consists of the Huanchaca Plateau, a sandstone escarpment that rises 550 meters above the surrounding plain. Featuring lush grasslands, crystal clear creeks, numerous waterfalls and dry cerrado woodlands, Huanchaca Plateau's stunning landscapes are thought to be the inspiration for Sir Arthur Conan Doyle's famous novel, "The Lost World". Designated by UNESCO as a World Heritage Site in 2000, Noel Kempff Mercado is one of the most beautiful and diverse national parks in the world. While somewhat difficult to get to, those that make the effort will be rewarded with an adventure of a lifetime.
A Guide To Noel Kempff National Park
Have you visited one of Bolivia's stunning National Parks? Share your experience below: