One of the most secluded and underrated travel destinations in the world, Bolivia is a country like no other.
Offering up surreal landscapes, unique cultures, fun-filled festivals, vibrant cities, bustling markets and adrenaline pumping activities, it's not a question of what to see and do in Bolivia. Rather, it's a question of knowing which sights and experiences simply cannot be missed.
Here we have selected 12 of the most popular tourist attractions in Bolivia:
Lake Titicaca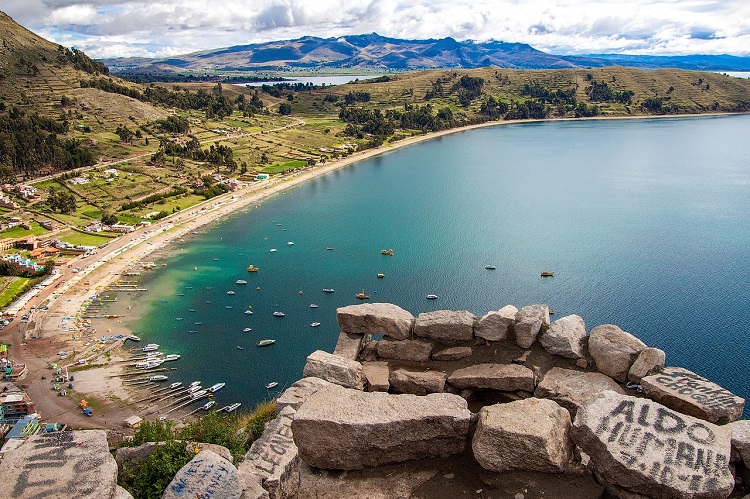 Lapping the shores of Copacabana, Lake Titicaca is not only one of Bolivia's most beautiful and treasured landmarks, but is also the highest navigable lake in the world.
Travelers flock to the resort town to soak in stunning views of Lake Titicaca, savor freshly caught trucha and explore what the Inca's believed to be the birthplace of their empire.
One of the best ways to grasp the sheer magnitude of Lake Titicaca is to take a boat trip from Copacabana to Isla del Sol. Here you will discover ancient Inca ruins scattered throughout the island as well as Aymara villagers busy farming the land and tending to the sacred sites. Walking from one side of the island to the other is a cathartic experience and one which will enable travelers to witness some of Bolivia's most breathtaking scenery.
Copacabana itself is a quaint little town to explore, with many shops, restaurants and bars lining the main streets. And if it's amazing views your after, there is no better place than the summit of the "Stations of the Cross" walk to observe Lake Titicaca in all its glimmering glory.
One of the best ways to enjoy Lake Titicaca is with a fully immersive tour. There are 2-hour tours, full days, and homestay tours where you get to spend the night with local families. Check out findlocaltrips.com to see all the best options available! 
Tiwanaku
Listed as a World Heritage Site in 2000 by UNESCO, Tiwanaku is a Pre-Columbian archaeological site in western Bolivia, named after what is believed to have been one of the most important civilizations prior to the Inca Empire. It is also one of the oldest and highest urban cities ever built.
Today, Tiwanaku remains an enigma, shrouded in mysteries of how, when, and by whom it was constructed. Ruins are made up of impressive architectural structures with many of Tiwanaku's stone creations defying explanation, posing more questions to archaeologists than answers.
Located about 72 km (44 miles) west of La Paz, visiting Tiwanakau is a must for anyone fascinated by ancient civilizations and mind boggling architecture.
La Paz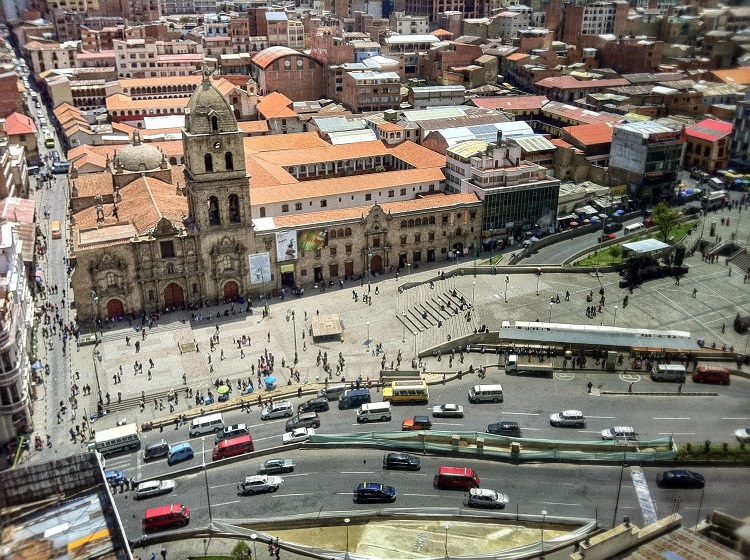 Set against a striking backdrop of snow-capped mountains is Bolivia's third most populous city and the world's highest seat of government.
Juxtaposed with the colorful lifestyle and traditions of the Aymara people, La Paz is full of modern cafes, clubs, bars and restaurants as well as traditional markets, historic plazas and colonial architecture. There are numerous sights to discover, free events to join, and adrenaline pumping activities to experience.
At a height of 4058 meters above sea level, La Paz is best explored at a slow pace, taking the time to soak up the city's rich culture and fascinating history.
From our experience (and from other travelers as well), Bolivia Hop has been the best way to get to and from La Paz. They're a unique hop-on, hop-off bus system provides a more flexible, comfortable and not to mention fun, way of getting you from A to B. Learn more about the service and how it works here!
Yungas Road
One of the most popular activities in Bolivia is the exhilarating and death-defying bike ride along one of the world's most dangerous roads.
Surrounded by mountainous terrain and terrifying precipices, the winding road grimly known as 'Death Road' due to its notoriously high death rate, stretches 69kms from La Paz to Coroico, connecting the Amazonian rain-forest to the busy city.
In 2009, construction of an alternative road replacing the dangerous stretch was completed with all traffic being diverted to the new road. Thankfully motorists can now travel from La Paz to Coroico without fearing the journey may be their last.
Even with these improved conditions, Yungas Road shows no mercy. Nowadays, the death toll is limited to local workers and daredevil backpackers still using the infamous road. It is believed that more than 30 cyclists have lost their lives on Bolivia's "Death Road" since 1998.
Best Death Road Tour Company: View FindLocalTrips here for more info on the best bike companies
Madidi National Park
Spanning 7000 square miles from the Andes deep into the Amazon, Madidi National Park is one of the most bio-diverse places on the planet.
Traveling by boat from Rurrenbaque across the Beni river, tourists stepping foot onto the jungle's muddy floors will delight in the multitude of flora and fauna on offer. Traversing the rugged terrain, you will come across winding rivers, rolling grasslands, mosquito laden lakes, steep slopes and possibly the seldom seen indigenous people of the tropical rain forest.
The best way to experience Madidi National Park is through one of the many ecological and cultural tours providing an authentic and safe jungle experience. Whether it's spotting a jaguar, smelling the scent of a rare type of flower, learning about the different medicinal plants, or listening out for the chirps of more than 1000 species of bird, this national park has something to offer every nature lover.
The Chiquitania Region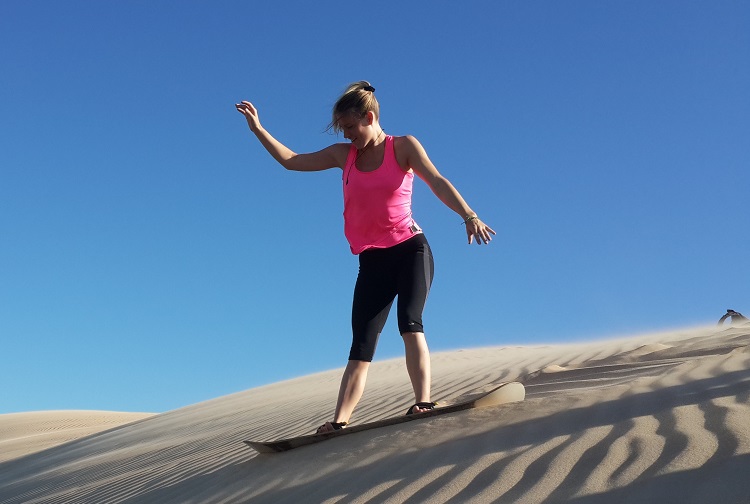 Veering slightly off Bolivia's backpacker trail is the Chiquitania Region, a stunning yet rarely visited area teeming with exciting and unspoiled attractions.
Differentiating itself from other parts of the country, the Chiquitania Region shines for its tropical savanna climate, Jesuit Missions, fascinating wildlife and unique natural history. With sights such as the mysterious rock formations of the the Santiago de Chiquitos Mirador and the hot thermal springs of Aguas Calientes as well as activities such as jaguar watching at Kaa Iya National Park and sandboarding in Lomas de Arena, it's difficult to understand why the area is so delightfully devoid of tourists.
One of Bolivia's most beautiful attractions, the Chiquitania Region is a must see for anyone fond of history, nature and the great outdoors.
Oruro Carnaval
Situated at dizzying heights in the arid Altiplano region of Bolivia is a mining town home to one of the most famous festivals in all of South America.
Each year on the Saturday before Ash Wednesday, the usually sleepy Oruro comes alive, hosting the world renowned Carnival. The unique festival features spectacular folk dances, extravagant costumes, beautiful crafts, lively music, and up to 20 hours of continuous partying.
A party like no other, Oruro Carnival is Bolivia's most sought after tourist attraction, drawing crowds of up to 400,000 people annually. Whilst the festival is celebrated throughout most of the country, Oruro is without doubt the most popular, offering a memorable experience for all those involved.
If you're lucky enough to be in Bolivia at this time of year, Oruro Carnival is one fiesta not to be missed!
Sucre
Bolivia's fifth largest and most beautiful city, Sucre is the ideal place for travelers to recharge their batteries, study Spanish and immerse themselves in the local culture.
Founded by the Spanish in the 16th century, Sucre has been designated as a UNESCO world heritage site to protect its many pristine and historically significant buildings. Largely untouched by tourism, the youthful city is a goldmine of unexplored treasures and cultural activity. It's also one of the cheapest and safest cities in South America, making it a desirable place to travel to.
With its numerous fascinating sights, free events, and cool places to go out, Sucre truly is an amazing place to visit and live.
Cerro Rico Potosi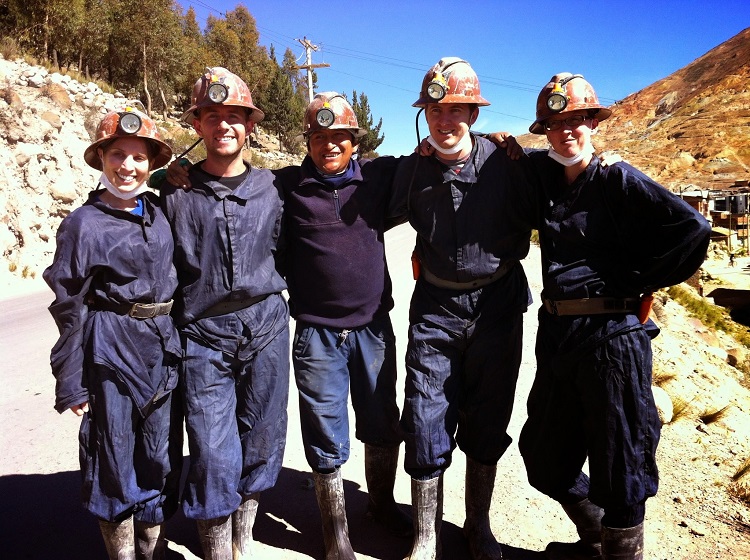 Looming over the highest city in the world is a red, dusty mountain, notorious for claiming the lives of Bolivia's hard working men and children.
Cerro Rico, rich in natural resources, once produced so much silver it pushed Potosi onto the world stage, becoming the wealthiest city in the Americas. Due to lack of infrastructure and inadequate safety equipment, millions of workers lost their lives extracting silver from the mountain's veins, making it one of the most dangerous jobs in the world.
Despite the past abundance of precious metals, Potosi is now one of the poorest cities in South America. Many of Bolivia's men have no choice but to work the unstable, mineral-depleted mines in order to scrape together enough money to feed their families.
Today, tourists can witness the perilous state of Cerro Rico first hand, taking guided tours through the mountain's narrow and claustrophobic tunnels. Here they'll learn that difficulty breathing, lack of food, and unbearably long hours are just a few of the conditions miners have to endure on a daily basis.
Travelers who manage to finish the tour of Cerro Rico will emerge from the mines thanking their lucky stars that this is not their reality.
Salar de Uyuni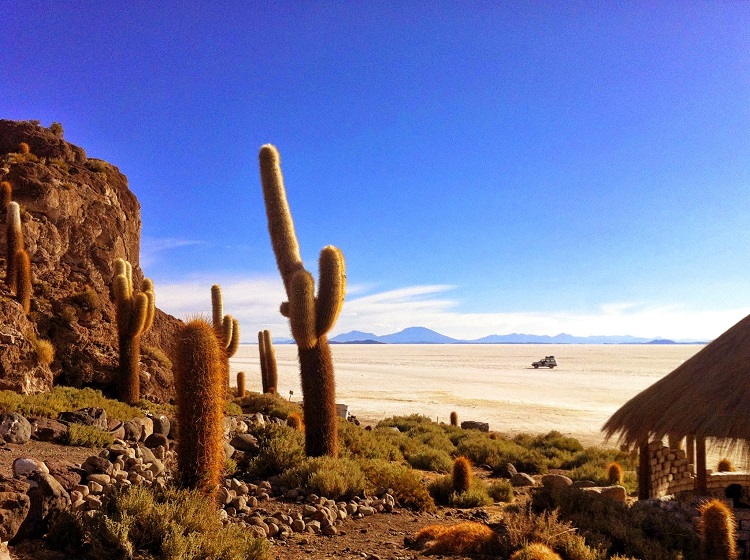 If you're planning a trip to Bolivia, chances are you'll want to experience the world's largest salt flat; Salar de Uyuni.
Once an inland ocean covering most of the Altiplano and reaching all the way to Lake Titicaca, the endless white desert is now home to some of the most unique and breathtaking scenery on earth.
Those traveling by 4×4 will notice that Salar de Uyuni's landscapes change quicker than a shake of salt. One hour you're surrounded by flamingos on a high altitude lagoon, and the next you're standing on an island covered in cacti. When it rains, the water sitting on top of the cemented salts reflects the sky above, turning Salar de Uyuni into the world's largest mirror. Travelers with an observant eye will encounter various wildlife during their trip including llamas, flamingos and even vizcachas (a squirrel / rabbit like animal often referred to as "scrabbit").
With nothing in sight for miles, taking "perspective pics" on the 4000 square-mile flats has become a popular pastime for tourists and photographers. During the trip, travelers also have the opportunity to sleep on beds made from salt and soak in natural hot springs under Bolivia's moonlit sky.
Finding the words to accurately describe Salar de Uyuni is no easy task. It's a truly unique and awe-inspiring part of the world, one which must be seen to be believed.
If you're looking for a more detailed guide of all the things Salar de Uyuni, check out the official information website to get all the info needed!
Samaipata
Veering slightly off Bolivia's tourist trail is an enchanting town located in the foothills of Santa Cruz.
Quechua for "Rest in the Highlands", Samaipata is not only a unique tourist destination but a popular weekend retreat for Bolivia's wealthier residents. Featuring stunning landscapes, stylish hangouts, ancient history and peaceful nature walks, the town is a relaxing hideaway for those looking to kick off their boots and enjoy the tranquil surrounds.
Samaipata's main attraction is the World Heritage, pre-Inca archaeological site of El Fuerte, home to the largest carved stone in the world. The town is also the gateway to Bolivia's natural treasure, Parque Nacional Amboró. The well preserved nature reserve boasts over 912 species of birds and over 177 mammalian species including the puma and the rare spectacled bear.
Often referred to as "The Little Switzerland of Bolivia", Samaipata is the ideal place to stop and unwind before moving onto Bolivia's more bustling locations.
Tarija Wine Region
Chasing the tails of Chile and Argentina's well-established vineyards, is a small Bolivian town producing some of South America's finest wines
Growing most of their grapes at an elevation of around 1800 meters (6000 feet), Tarija is officially the highest wine producer in the world. Located in the south of the Bolivia, the scenic area enjoys a Mediterranean climate making it the ideal location for wine production. Due to the unique mix of high altitude and warm weather, Tarija's winemakers claim to be able to age grape juice at a faster rate, enabling them to produce a two year old wine with similar qualities to a six year old wine.
Though wine tasting tours in Tarija are not a refined experience, wine aficionados and budding sommeliers will enjoy sampling the variety of fruity reds and floral whites on offer, as well as the local specialty – singani. And for those looking to tickle their taste-buds with food rather than alcohol, Tarija boasts a variety of culinary treats including grilled bife de chorizo and local favorite, dulce de lacayote (caramelized squash).
One of the fastest growing cities in Bolivia, Tarija itself is a great place to spend time, exploring the contemporary art galleries, bustling markets and youthful bars.
If you happen to be passing through Bolivia's highlands and wish to indulge in a glass of wine or two, Tarija is a destination well worth visiting.
What Bolivian tourist attraction would you add to the list? Share in the comments below: