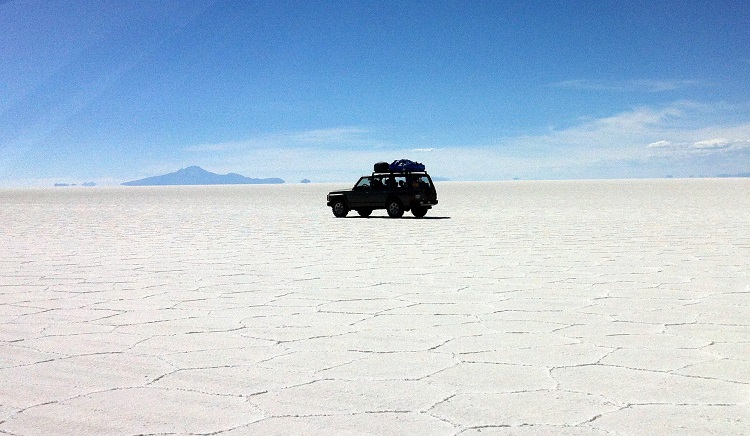 If you're planning a trip to Bolivia, chances are you'll want to experience the world's largest salt flat: Salar de Uyuni. Visiting this popular destination is without doubt an unforgettable journey, providing a transient glimpse into the surreal realm of Bolivia's southwest.
The following is an overview of what you can expect from a tour of Salar de Uyuni, outlining all you need to know about experiencing one of the most spectacular places on earth!
Official Salar de Uyuni Website: www.salardeuyuni.com
Bolivian Life Quick Tip:
As voted the best way to travel around Bolivia and Peru, we highly recommend choosing Bolivia Hop as your means of transport. Their safe, flexible and trustworthy service have proven to be the best way of getting the most out of your time in South America!
Where To Begin Your Slat Flats Tour
Depending on where in Bolivia you're traveling from, you can begin your tour in Uyuni, Tupiza or San Pedro de Atacama:
Salt Flat Tours Leaving From Uyuni
The  most popular starting point for those traveling from the north of Bolivia to the south
Over 75 tour agencies to choose from
Tours range in length from 1 to 4 days
Salt Flats are visited on the first day, with the tour ending in Uyuni. Most agencies will also offer the option to transfer onto San Pedro de Atacama or Tupiza at the end of the tour for an additional price
Tours tend to be cheaper than the other starting points due to competition driving prices down
Getting To Uyuni
Where to Stay in Uyuni
Piedra Blanca Backpackers Hostel
La Petite Porte
Hotel de Sal Luna Salada
Salt Flat Tours Leaving From Tupiza
A good option for those arriving in Bolivia from Argentina
Less tour agencies to choose from than Uyuni
Tours offered are usually 4 days at minimum with the extra day allowing you to see more of the spectacular Sud Lipez Province
Tours visit the Salt Flats on the last day, ending in Uyuni with the option of returning to Tupiza
Tours leaving from Tupiza tend to be slightly more expensive than those leaving from Uyuni, mainly because the drive is further and covers more ground.
Getting to Tupiza
From  Villazón – a 4 hour bus ride on paved road leaving from the main bus terminal. One way ticket costs around Bs. 15 ($2 US). Alternatively you can take the train.
From La Paz – a 14 hour bus ride on paved road leaving daily from the main bus terminal in La Paz. An alternative option is to take a bus to Oruro and then take the train from Oruro to Tupiza (see FCA webstie for schedule and prices).
From Potosi – a pleasant 6 hour bus journey leaving daily from Potosi's new bus station at around 7am.
Where to Stay in Tupiza
Hotel La Torre
Hostal Los Salares
Hotel Mitru
Salt Flat Tours Leaving From San Pedro de Atacama
A good option for anyone already in Chile
Prices are a little higher due to it being a less popular starting point than Uyuni and Tupiza
Majority of tours end in Uyuni
Tours visit the Salt Flats on the final morning, allowing you to see the sun rise over the flats
Where to Stay in San Pedro de Atacama
Budget
Hostal Mama Tierra
Hostal Rural
Hostal Candelaria
Luxury
Tierra Atacama Hotel & Spa
Alto Atacama Desert Lodge & Spa
Casa Solcor Boutique Bed & Breakfast
Tours Of Salar De Uyuni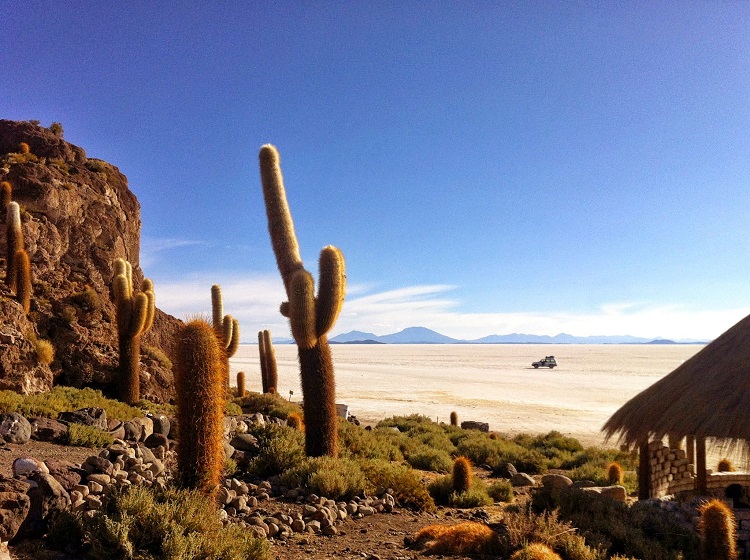 Length of Tours
Salar de Uyuni tours range in length from from 1 to 4 days. For those with a limited travel schedule, a 1 day tour will allow you to experience the flats as well as a couple of sights in the surrounding area. Longer tours however will take you deeper into the desert where you'll discover soaring volcanoes, steaming geysers, colorful lakes, warm hot-springs, unique wildlife and much, much more.
Bolivian Life Quick Tip:
As voted the best way to travel around Bolivia and Peru, we highly recommend choosing Bolivia Hop as your means of transport. Their safe, flexible and trustworthy service have proven to be the best way of getting the most out of your time in South America!
Choosing a Tour Company
Due to Uyuni's remote location and Bolivia's overall lack of regulations, experiences are not always as hoped. Often it's a case of "you get what you pay for", and those looking for the cheapest option can be left with an unreliable, uncomfortable or unprofessional tour. Therefore, it's vital travelers do their research, reading reviews on Trip Advisor,Lonely Planet Forums and other travel blogs, before committing to a tour.
Booking a Tour
For those with a fixed travel itinerary, booking your Salar de Uyuni tour in advance, either online or in La Paz, is highly recommend for peace of mind and to ensure you get a reputable tour operator.
That being said, booking on location offers greater freedom and flexibility, especially in terms of price. Because many tour operators don't have a website, browsing the various agencies in person will allow you to price compare as well as ascertain the quality of tours first hand.
Things to note:
Uyuni is a very small, nondescript pueblo with not much to offer in terms of tourist sights and activities. Booking a tour as soon as you arrive in Uyuni is highly recommended in order to avoid spending a whole day in the sleepy town.
Salar de Uyuni tours are subject to cancellation based on bad weather conditions.
Due to the unpredictable nature of Bolivia's roads, political climate and weather conditions, we recommend contacting the tour company you're traveling with at least 3 days in advance to confirm your booking.
Most tour agencies offer the choice of group or private tours; the later being the more comfortable, albeit significantly more expensive option.
Costs
A 3 day / 2 night shared tour with a mid-range tour company costs roughly Bs 800-1400 per person ($125-$210 US). Tours on the higher end of this price scale tend to offer English speaking guides, sleeping bags, hot-water bottles, better quality food and accommodation.
Whilst there are cheaper options to be found, we highly recommend spending the extra money to guarantee not only a fun time but a safe time.
What's Included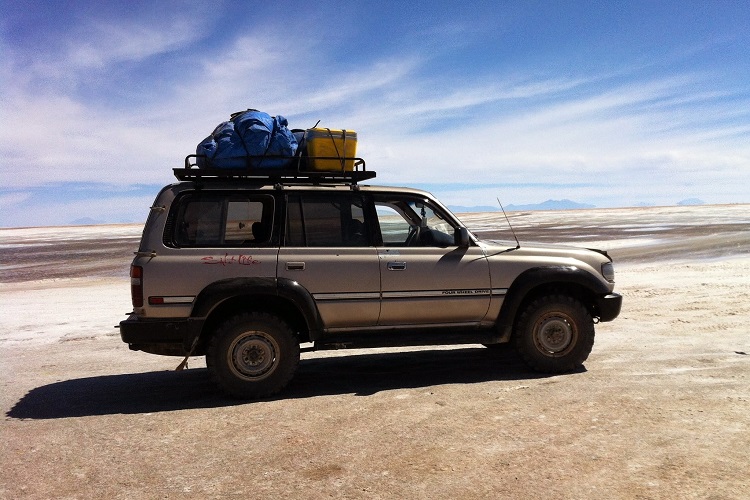 A standard tour will usually offer the following inclusions:
Transportation in a Toyota 4×4 land cruiser (sharing with 6-7 other passengers)
A guide
Driver (on some occasions the guide will also be the driver depending on availability)
Meals during the tour – first day (lunch and dinner), second day (breakfast, lunch and dinner) and third day (breakfast). A vegetarian option is available, just make sure you state your preference when you book
Accommodation
Transfer to San Pedro de Atacama in Chile (at an extra cost, see below)
What's Not Included
The following is generally not included in the standard tour price
Transport to Uyuni
Entrance fees – A total of Bs 190 ($28 US) for the 3 day tour; 30 Bs for entry into Fish Island, 150 Bs for entry into the national park and 10 Bs for a hot shower
Water – it's recommend to purchase 2 liters per person, per day to take with you.
Breakfast on first day, dinner on last day
What To Bring On Your Salt Flats Tour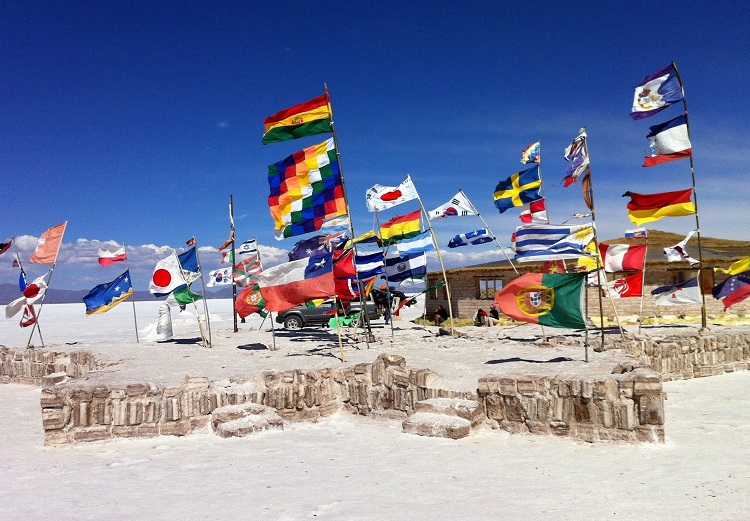 Whist days tend to be sunny and warm, there are places on route which are quite windy and nights can get very, very cold. Also, due to high solar radiation, the salt flats are notorious for causing sun burn as well as producing seriously strong glare. Therefore it's recommend to bring the following items:
Sunglasses
Hat
Sunscreen – don't forget to apply in and around nostrils as the sun's reflection from the salt flats will burn them
Clothes suitable for layering – a t-shirt during the day, a jumper in the evening, a warm jacket, gloves and wool socks at night
Raincoat (from December to March)
Comfortable Walking Shoes
Flip Flops – for easy access to the thermal springs and for when it has been raining on the salt flats
Swim Suit and Towel – for the hot springs
Torch – as electricity in the hostels is usually turned off during the night
Coins and Toilet Paper – you have to pay to use the public toilets
Extra Water – around 2 liters per day is recommended
Snacks – You are fed very well on the tour, however it's always nice to have something to munch on during the long car rides
Passport
More info: The Only Packing List You Need For Your Trip To Bolivia.
Tips For Visiting Salar De Uyuni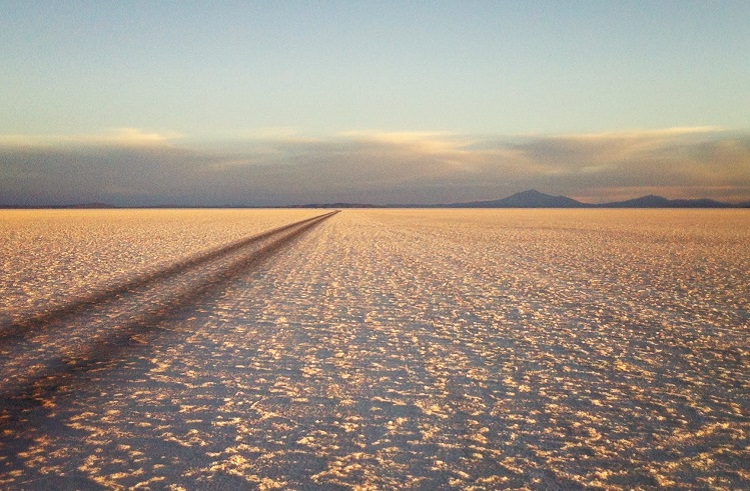 Health & Safety
The Salt Flats rise to an altitude of around 4000 meters so there is a high chance you will feel some effects such as headaches, nausea, sleepiness and shortness of breath. It is recommend that you acclimatize at around 3000 meters before the tour (e.g. stay in La Paz, Sucre, or Potosi) and that you take headache tablets and altitude sickness medication (e.g. Acetazolamide) with you.
During the tour make sure you drink plenty of water and take it nice and easy. Another thing to note is that due to its remote location, facilities on the Salt Flats are very limited.
If you become sick or injure yourself, there are no medical facilities other than at the town of Uyuni, and even then, medical care is basic. Make sure to bring all your medications with you, don't leave home without travel insurance, take care and don't do anything reckless!
ATMs
While there are ATMs in Uyuni, it's highly recommended to bring cash with you as it's not uncommon for the ATMs to be out of order.
WiFi
Due to Salar de Uyuni's remote location, there is no wifi access during your tour. In Uyuni itself, several hostels offer free wifi, however don't expect fast speeds. There are also a handful of internet cafes located on the main drag, they typically cost around 3 Bs ($0.50) per hour.
Taking "Perspective" Photos In Salar De Uyuni
With nothing in sight for miles, taking "perspective pics" on the 4000 square-mile flats has become a popular pastime for tourists and photographers.
To take perspective photos, one person will need to lie down with the camera on the floor to get a steady shot, while the other person poses with their chosen item (objects closer to the camera seem larger than those further away). Many travelers use fun-themed items such as wine bottles, toys, hiking boots, Pringle tubes etc. to take their photos. Remember the larger the item, the easier it is to take a good pic.
Best Time To Visit Bolivia's Salt Flats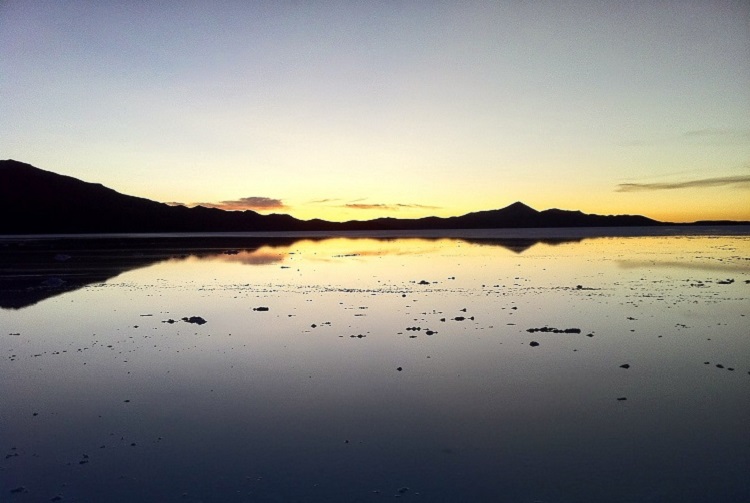 The best time to visit Salar de Uyuni depends on what experience you are looking for. For those wanting to experience the "largest mirror on earth", visiting between March and April will increase your chances of seeing the natural phenomena. However please note that if you travel in the rainy season (January to April), you will most likely not be able to visit Fish Island due to the wet conditions. If it's ideal weather conditions you're after, it's recommend to visit between July and October. This time of year sees lots of sunshine and very little rain.
Sample 3 Day / 2 Night Itinerary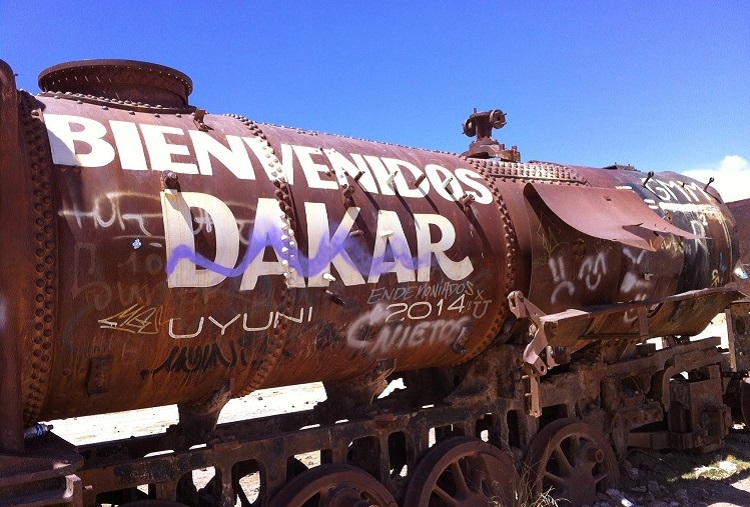 The following is a typical 3 day / 2 night itinerary. Occasionally the order in which you see the sights may change, however you will always be taken to the main attractions and if you're lucky, get to experience something not included on the standard tour.
Day One: Uyuni – Colchani – Inca Huasi – Agua Quisa
Train Graveyard
Small village of Colchani to visit the salt miners' worshop
Salar de Uyuni (Uyuni salt flats)
The original Salt Hotel where you can have a look and take pictures. You also have lunch here
Inca Huasi Island (Fish Island / Cactus Island)
Back to the Salt Flats where you are given time to take perspective photos
Small Village of Agua Quisa where you have dinner and spend the night
Day Two: Chiguana – Lagunas – Siloli – Laguna Colorada – Sol de Mañana
Wake up at 7am, have breakfast and leave at 8am
Small desert of Chiguana on the south side of Salar de Uyuni where you stop at a lookout to view steamy volcanoes
Stop at Andean lagoons to hang out with hundreds of flamingos
Big desert of Siloli where you can see Arbol de Piedra (the rock tree)
Red Lagoon with more flamingos
"Sol de Mañana" geysers
Hostel, dinner and the chance to enjoy the natural hot-springs under a starry sky
Day Three – Dali Desert – Laguna Verde
Wake up at 7am, have breakfast and leave at 8am
Dali desert
Laguna Verde (the green lake)
6 hour ride back to Uyuni, arriving around 6pm (or drop off at the Chilean border for those heading to San Pedro de Atacama)
Leaving Salar de Uyuni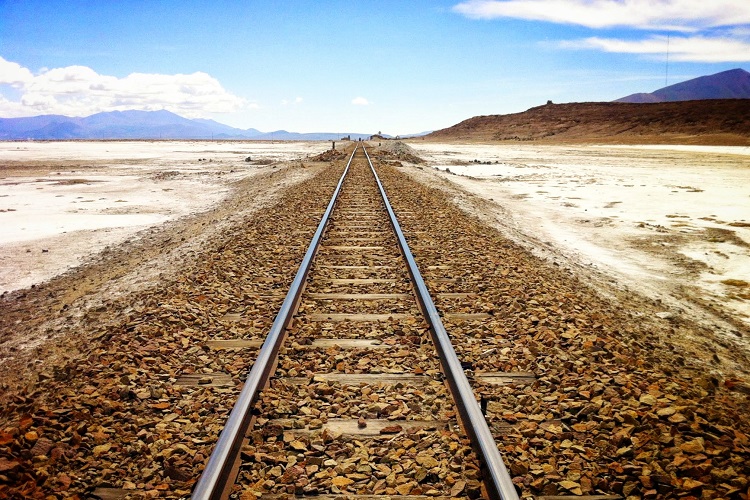 If you want to go direct to Chile on the third day after Laguna Verde, most tours can organize a transfer to the Chilean border where you can take a shared mini bus to San Pedro de Atacama. People taking this option will arrive in San Pedro around 1pm. The cost is Bs 50 ($7 US). Make sure to get your Bolivian exit stamp from the immigration office in Uyuni before commencing the Salt Flats tour.
If you want to travel to La Paz after the tour there is the option of a night bus which leaves Uyuni around 8pm (tours generally finish in Uyuni around 6pm). Do note however that this is a 13 – 15 hour journey on unpaved, bumpy roads. It is one of the most unpleasant bus rides in all of Bolivia, so be prepared for a long / uncomfortable night. A recommended bus company is Todo Turismo and a one way ticket costs Bs 230 ($33 US). An alternative is to fly to La Paz from Uyuni's small airport.
A slower but more comfortable way to reach La Paz is to travel from Uyuni to Sucre or Potosi, both tourist attractions in their own right, and then travel between Sucre and La Paz (or Potosi and La Paz).
Have you been on a Salt Flats Tour in Bolivia? What was your experience like? Share in the comments below