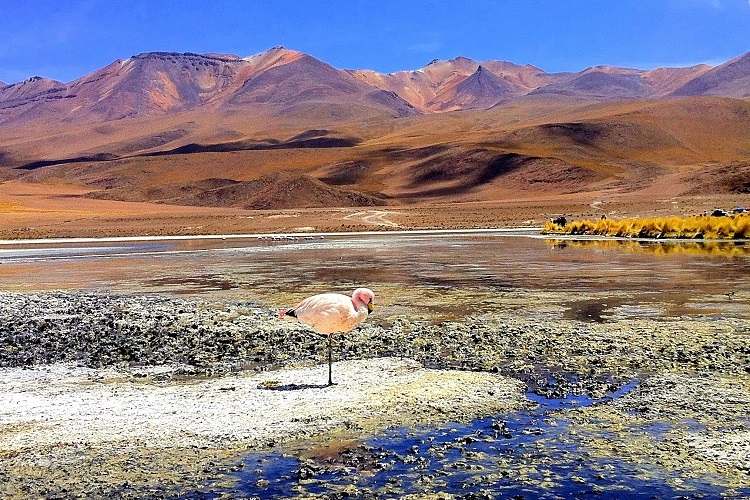 An ecological masterpiece, abundant in wildlife and teaming with precious plant species, Bolivia is one of the few places left in the world where travelers can experience mother nature at her finest.
From elusive jaguars to pink river dolphins, Bolivia's parks and jungles are famed not only for their rich flora and fauna, but also for their remote indigenous communities and diverse landscapes. An unparalleled adventure for nature lovers, exploring Bolivia's remote and largely untouched locations is a wonderful way to experience the types of sights, smells and sounds so rarely encountered in today's developed world.
The following itinerary features some of the most unique and awe-inspiring natural attractions in Bolivia. Done solely as a wildlife tour, or in combination with city stops along the way, the itinerary is a great way to catch a glimpse of some of the country's best natural wonders.
Theme
Wildlife & Adventure
Start / Finish
La Paz Loop
Trek into pristine Amazon rainforest, learning about different flora and fauna
Observe and photograph jaguars roaming freely in the wild
Rappel down natural waterfalls, climb volcanoes and bathe in natural hotsprings
Volunteer at an animal sanctuary
Canoe, raft, fish and kayak along the jungle river
Go horseback riding along one of the many eco-trails
See dinosaur fossils with your very own eyes
Take perspective photos on Salar de Uyuni
Learn how local communities gather plants for medicine, diet and rituals
To guarantee a seat on a bus or train in Bolivia it is highly recommended to book your tickets in advance. Tickets Bolivia is a reliable travel company enabling leisure and business travelers to research, plan and book their trip online. To purchase bus and train tickets for selected destinations between main cities and tourist attractions in Bolivia, please fill out the following form:
Whilst the above itinerary offers a great nature and wildlife overview of Bolivia, it is in no way the only way to discover Bolivia's countryside. There are many other interesting and unique places to visit, so if you have the time, do look into the following activities and destinations:
In Bolivia, timetables and schedules aren't always adhered to. Protests around the country can close down roads for days at a time and it's not unheard for buses to break down, tours to be cancelled without notice and travelers to get sick. Though these occurrences are the exception rather than the rule, it's still recommended that you be flexible with your travel plans to avoid undue stress and disappointment
Long-distance bus rides can also be booked ahead from the main bus stations; a good idea if your schedule is tight and you want to guarantee a seat on the bus.
To minimize the risk of malaria and insect bites, it's recommended to wear long sleeved shirts and trousers, sleep under a mosquito net and to use insect repellent containing DEET, especially at night (see our guide to protecting yourself against mosquitoes). We also recommend consulting a physician prior to visiting Bolivia to get the most up to date advice on medications and vaccinations
Do not feed or touch wildlife as it changes their natural behaviour and encourages interaction with humans
Take only pictures, leave only footprints. Don't remove anything from the national parks including plants, nuts, seeds etc.
If possible, try and book your accommodation in advance. This is especially important if you will be arriving in a new place late at night when unfamiliar areas may be unsafe. For accommodation recommendations check out the following posts: